Travel
The 6 Best Places To Live In Scotland | 2022
[ad_1]
Wondering where the best places to live in Scotland are?
As one of the oldest European countries, being in Scotland can sometimes feel like stepping back into history. The sights in Edinburgh are pretty spectacular, from hilltop castles to Neolithic settlement ruins to ancient cities with original cobbled streets.
Ready to travel again? Don't go without travel insurance.
I recommend SafetyWing Nomad Insurance. I've been using it since 2019 and I can assure you it's the perfect solution for nomads like you and me.
Aside from its rich heritage, Scotland boasts reasonable living costs, low crime rates, friendly locals, and beautiful landscapes. The country also has various job opportunities for foreigners, making it a desirable place to relocate to.
So if you're looking to move to the land of Haggis, Kilts, and Nessie, here are the six best places to live in Scotland for expats.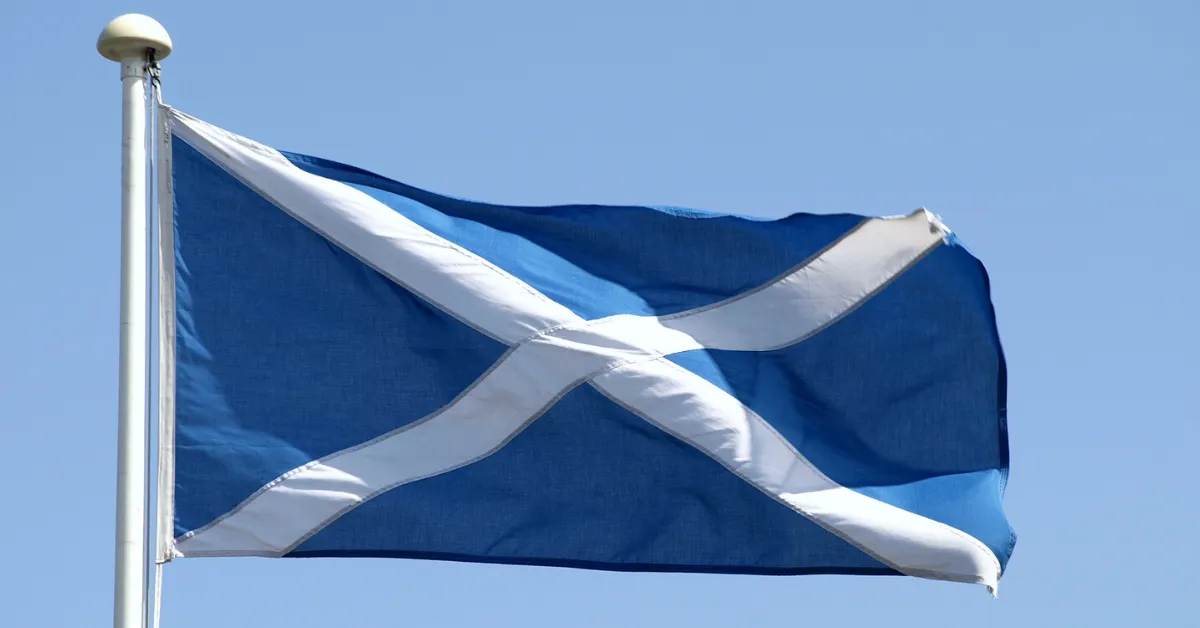 Edinburgh
Edinburgh is not just one of the best places to live in Scotland because it is the capital. Edinburgh is steeped in beauty, history, and culture and is highly diverse.
History lovers will adore the vibrant Old Town, the regal Georgian New Town, and the iconic Edinburgh Castle that sits atop a hill overlooking the city center.
Arts and culture enthusiasts will find the capital equally delightful as the city hosts many festivals and events, including the famous Edinburgh fringe.
In addition, Edinburgh is full of picturesque parks, gorgeous buildings, high-quality restaurants, museums, art galleries, and more. Plus, as there are some lovely beaches nearby, Edinburg really does have it all. 
If that's not enough, the schools and universities are world-class, and the crime rates are low. It's also easy for foreigners to find work here. Healthcare, software and digital technology, renewable energy, engineering, and sales are just some thriving industries. 
Edinburgh is significantly cheaper than many of the big cities in England and Europe. For example, rent is much more affordable than in London, with one-bedroom apartments ranging from £700 to £950.
However, compared to the other best Scottish cities and towns on this list, Edinburgh is the most expensive.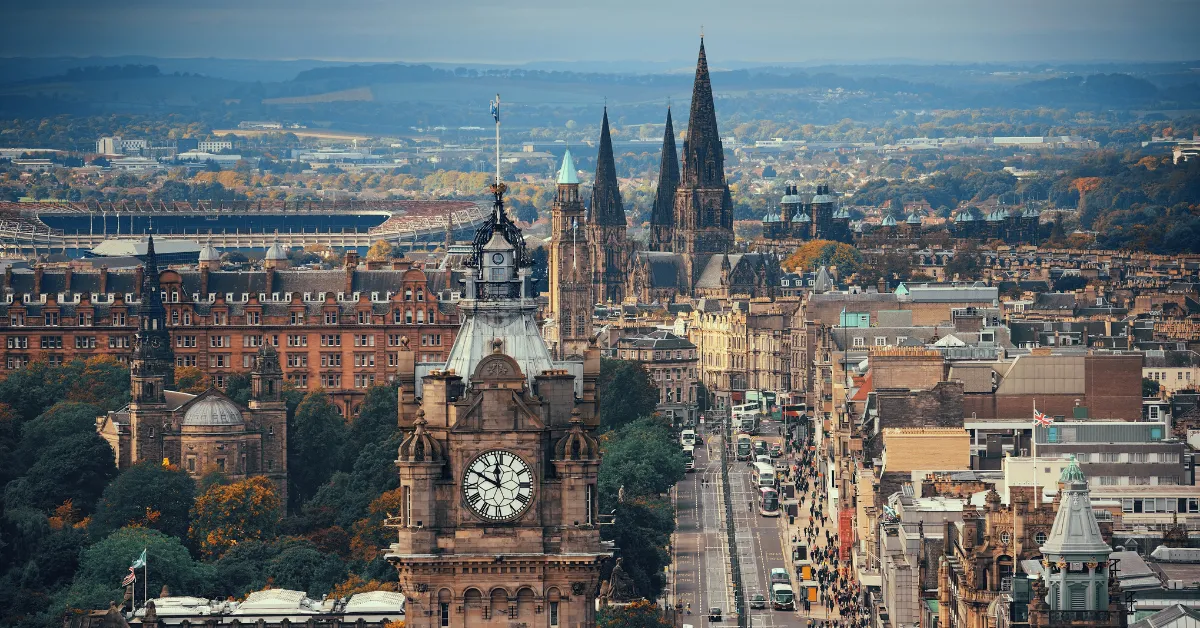 Glasgow
When looking for the best cities for living and working in Scotland, you'll quickly realize there is great debate between Edinburgh and Glasgow. Glasgow is less than 50 miles west of Edinburgh but has a contrasting vibe.
Firstly, Glasgow is bigger, both in size and population, and much more modern. Although there are still plenty of historic buildings in Glasgow, the city has many contemporary constructions, such as the Armadillo (Glasgow Clyde Auditorium) and The Clyde Arc Bridge.
Glasgow is a port city sitting on the River Clyde in Scotland's western Lowlands. Thus, it has a large river running through it, giving it an appearance and atmosphere more similar to London than Edinburgh. 
However, one similarity between Scotland's two most famous cities is the significant international and student presence. The University of Glasgow attracts students from all around the world, resulting in a vibrant vibe and buzzing nightlife. 
The European Commission also named Glasgow the UK's top cultural and creative city because of its numerous museums, theaters, street art, and innovative venues. And while Glasgow may not have been the safest city in the past, it is now incredibly safe, friendly, and welcoming, with an average crime rate for a town of its size. 
Glasgow has a slightly cheaper cost of living than Edinburgh. You can rent a one-bedroom apartment for £600 to £800. There are abundant work opportunities for expats, including in education, healthcare, tech, law, and finance.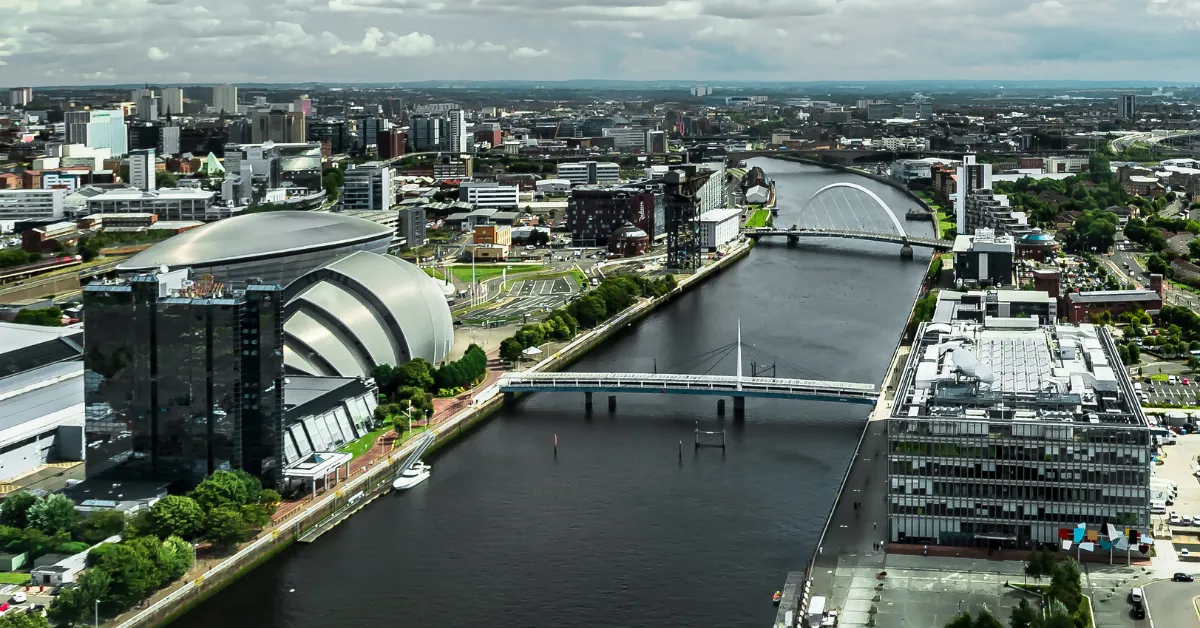 Aberdeen
The port city of Aberdeen in northeast Scotland is another of the best cities to live in Scotland for expats. Aberdeenshire is known as 'the oil capital of Europe,' yet it offers much more than an offshore petroleum industry. 
While the city of Aberdeen is not the most beautiful, the surroundings are outstanding. Aberdeenshire is home to ​​the stunning Cairngorms National Park and other 300 castles, ruins, and stately homes, including some breathtaking clifftop forts.
Because of the impressive natural landscapes, Aberdeen is a good option for expats who appreciate the great outdoors and want to be close to nature. Moreover, you'll enjoy the museums, art galleries, and historical landmarks like Torry Battery in the city center.
The city also has its own windswept beach where you can cool off on unexpectedly hot summer days.
One of the top reasons expats moving to Scotland choose Aberdeen is the abundance of jobs.
The city has an employment rate of over 78%. So aside from nabbing a well-paid but strenuous job in the oil trade, you'll find opportunities in the engineering, manufacturing, education, or recruitment sectors. 
One downside to living in Aberdeen, though, is the weather. It's much chillier here than in the southern cities like Edinburgh and Glasgow.
Still, if you don't mind the cold, you'll likely enjoy significant savings on rent! As one of Scotland's cheapest cities, you can rent a one-bedroom apartment for around £500.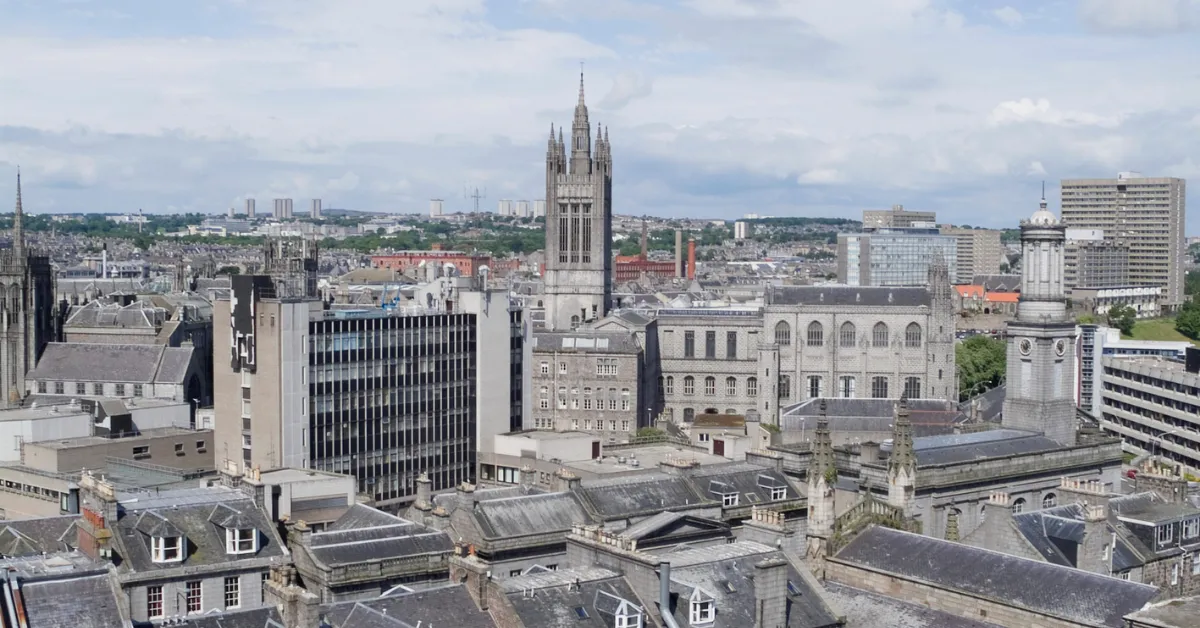 Stirling
Stirling is a small city in central Scotland, less than a 45-minute drive from Glasgow and not much more than one hour from Edinburgh. Thus, Stirling offers a quieter lifestyle than the big cities but is still in a desirable, easily accessible location.
Stirling is an ancient city that looks like a smaller version of Edinburgh. The city centers around the medieval Stirling Castle, which sits on a craggy volcanic rock and gives incredible views of the town below and rolling hills in the distance. 
The cost of living in Stirling is pretty low, with rent prices similar to as in Aberdeen and significantly lower than in the capital city.
What's more, Stirling was voted the safest city in the UK by The Complete University Guide 2019 and the happiest place to live in Scotland by Rightmove Happy Home Index 2021.
Although it is less known than the bigger cities, Stirling still has a significant international presence, partly due to the university. However, as you would expect, there are fewer jobs here.
However, that's not too much of a problem as many of the expats living in Stirling commute to Glasgow, enjoying a well-paid city job and a peaceful, low-cost lifestyle.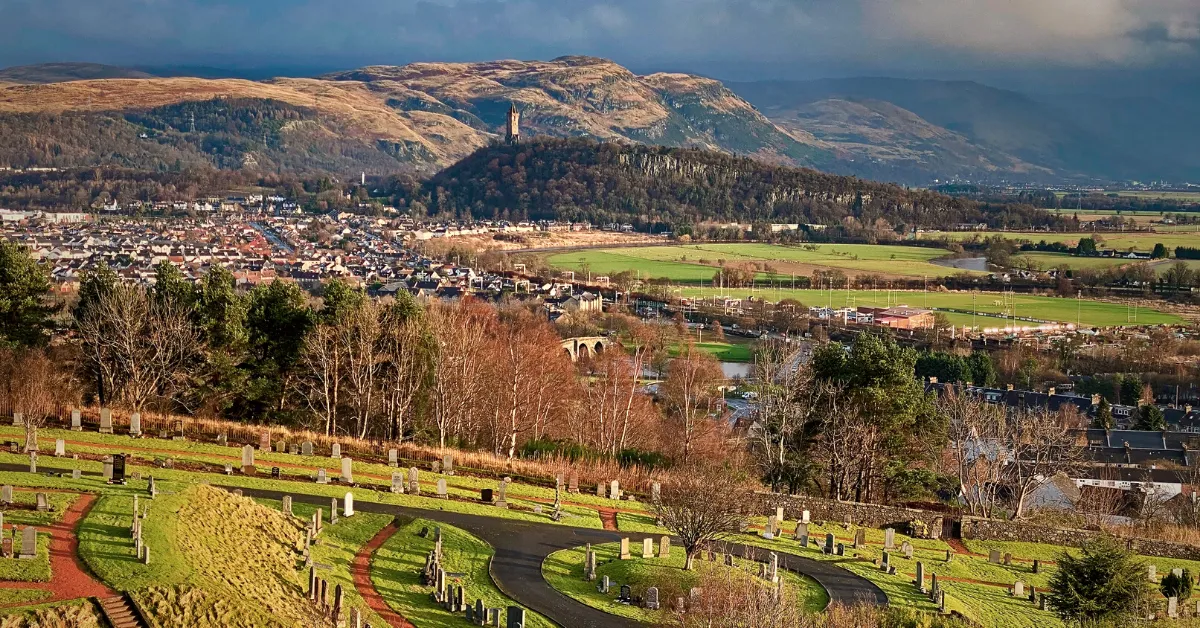 Dundee
There are many reasons why the coastal city of Dundee on the east coast is one of the best cities in Scotland. As the fourth-largest city, there are plenty of job opportunities, especially in the technological and biomedical fields, which are both currently thriving.
Dundee also has plenty going on. There is something for everyone, from a thriving nightlife to a stylish regenerated waterfront to lovely beaches and parks.
It's also highly safe and boasts an excellent public transport system.
Dundee's low cost of living is another reason why expats of all ages are attracted to this Scottish city. Rental and consumer prices are similar to in Stirling, with a one-bedroom apartment averaging £450 to £650.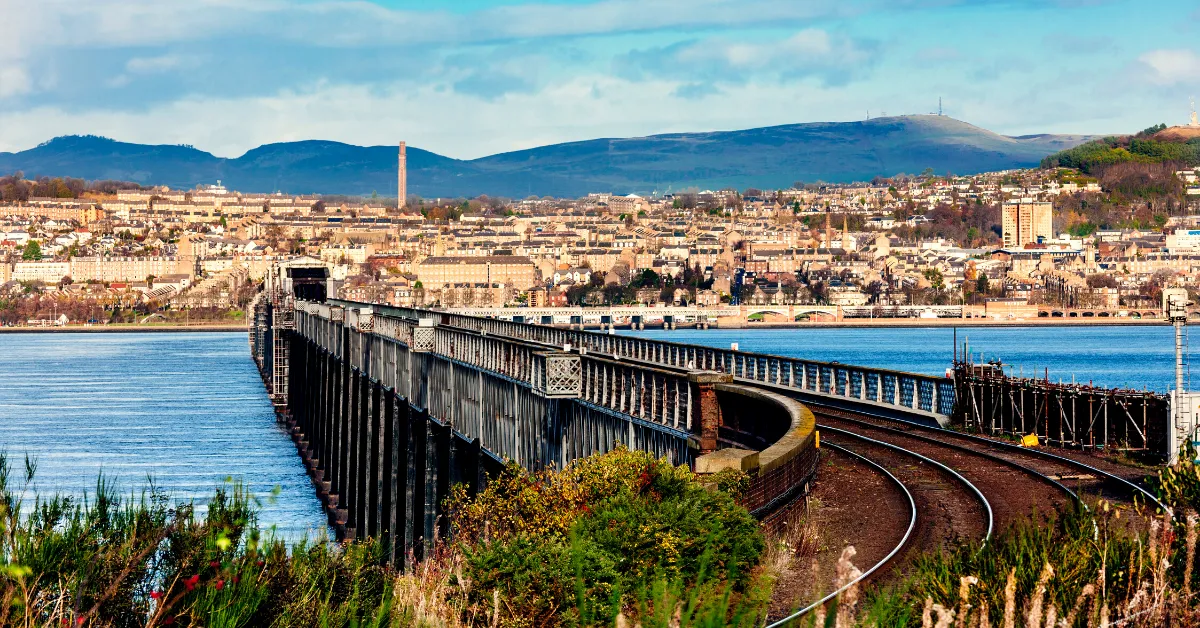 Argyll & The Isles
Did you know that Scotland has 115 inhabited islands? 23 of these are in the county of Argyll on the west coast of Scotland.
The Isle of Arran is the closest to the mainland, with a regular ferry service. 
The Isle of Mull is another popular island in Argyll and one of the largest. It offers a very different lifestyle to the big Scottish cities.
Still, it is idyllic for remote workers looking to create a base somewhere peaceful and relaxed. 
There is not much nightlife, but there are many natural sights and things to explore. Plus, the island gets busy with tourists in the summer, giving it a livelier vibe.
Thus, Argyll is an excellent alternative for location-independent workers and business owners looking to enjoy some of Scotland's natural beauty.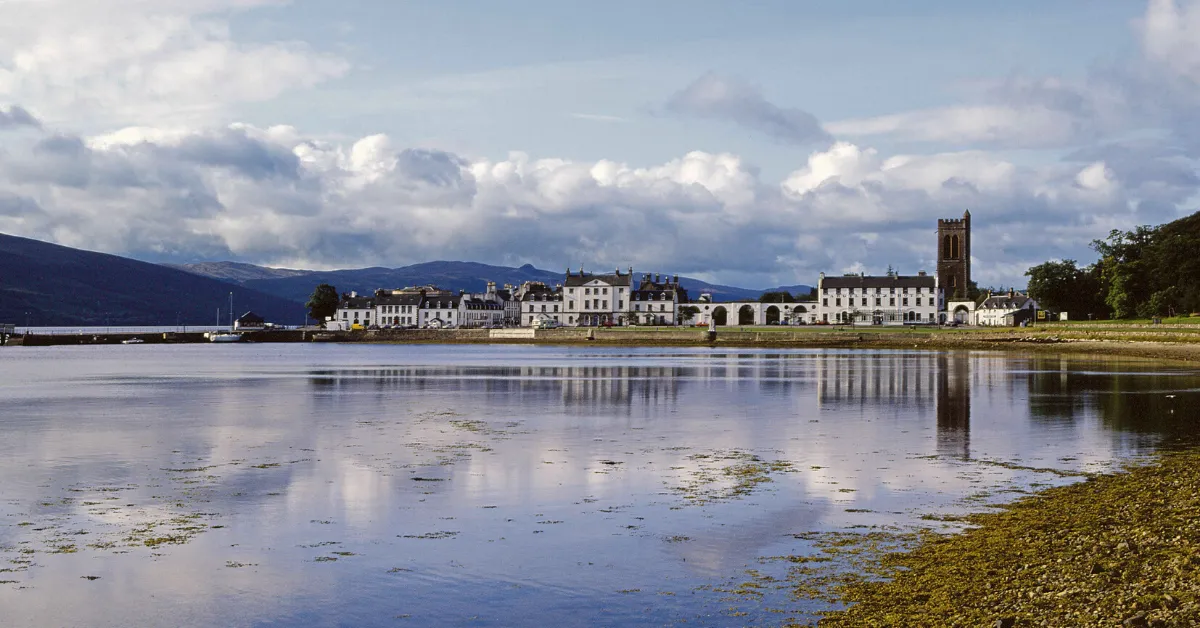 Final Thoughts On Best Places To Live in Scotland
Even though Scotland does not have the warmest climate, there are still plenty of reasons to relocate to this part of the UK. The country is very safe, the cost of living is reasonable, and there is no shortage of job opportunities. 
Still, each of the best places to live in Scotland offers something slightly different. From historical buildings and cobbled streets to views of glistening lochs and rolling green hills, the choice is yours.
Not sure if Scotland is the right place for you? Read one of the following guides:
[ad_2]
Source link