Travel
The 5 Best Places To Live In Sweden | 2022
[ad_1]
Wondering where the best places to live in Sweden are? Then keep reading to find out!
In the 'best countries to live in the world' lists, Sweden is often in the top 10. This is because it not only boasts breathtaking nature and beautiful architecture, but Sweden offers free access to a top-quality health and welfare system.
Ready to travel again? Don't go without travel insurance.
I recommend SafetyWing Nomad Insurance. I've been using it since 2019 and I can assure you it's the perfect solution for nomads like you and me.
Plus, the locals are welcoming, English is widely spoken, and a wide array of well-paid jobs and business opportunities exist.
Therefore, it is no surprise that this Scandinavian country has a sizable foreign community. Whether you are a digital nomad looking for a cool new European destination or a family seeking to relocate to somewhere with a higher quality of life, Sweden won't disappoint. 
Here are the five best places to live in Sweden, including their pros, cons, and average living costs.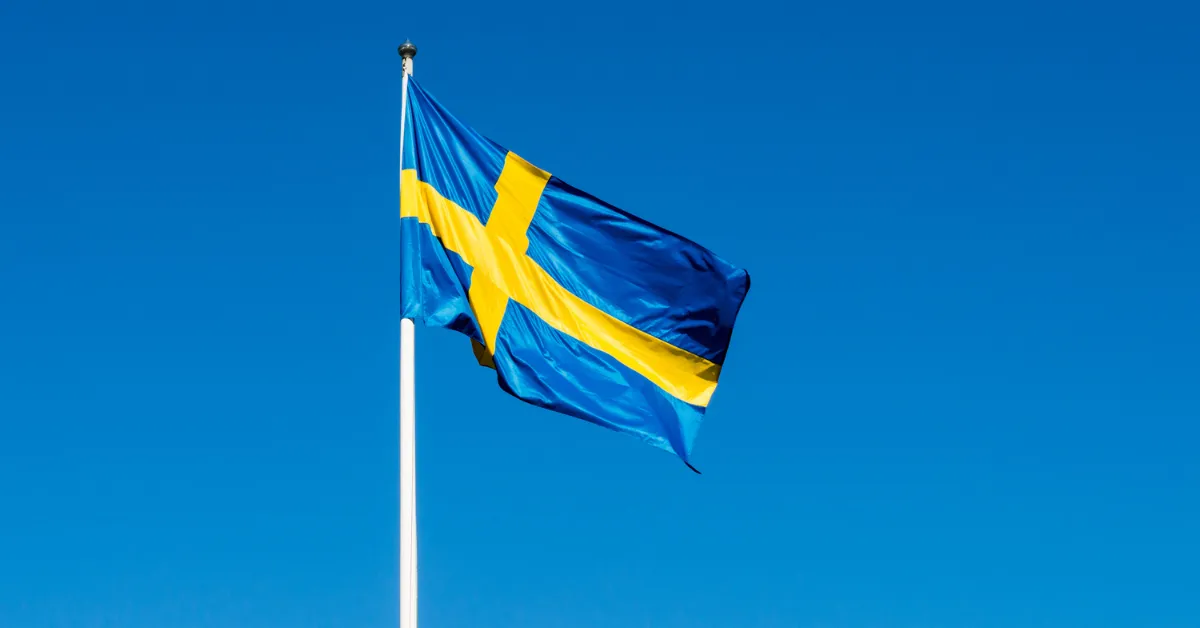 Stockholm
As the country's capital city, Stockholm is often the first choice among expats living and working in Sweden. The city has a unique location on the extensive Baltic Sea archipelago, encompassing 14 islands and over 50 bridges.
This gives Stockholm a charming scenic backdrop among its sophisticated cosmopolitan culture, enticing remote workers from all corners of the world.
Stockholm has a population of around 1.5 million, a diverse range of residents, and a sizable foreign community. It is a hub for fashion, food, culture, and arts, offering expats a hip-urban lifestyle in a beautiful location.
Stockholm has a thriving business district and has become a significant tech hub in recent years. The city is home to numerous major tech companies and innovative start-ups, giving it the nickname of the "Silicon Valley of Europe."
Aside from tech, there are many jobs in education as the city is home to some of Europe's best universities.
Stockholm is an immaculate city with ample green spaces and an excellent public transport system. Moreover, as it is located in the country's southeast, Stockholm enjoys pleasant summers, with average temperatures of 14 to 23°C. 
The one downside of living in Stockholm is that, as the capital city, the cost of living is high. For example, renting a one-bedroom apartment costs between $1000 to $1400.
Still, wages are not too low, as the average after-tax salary in Stockholm is $3,500 per month.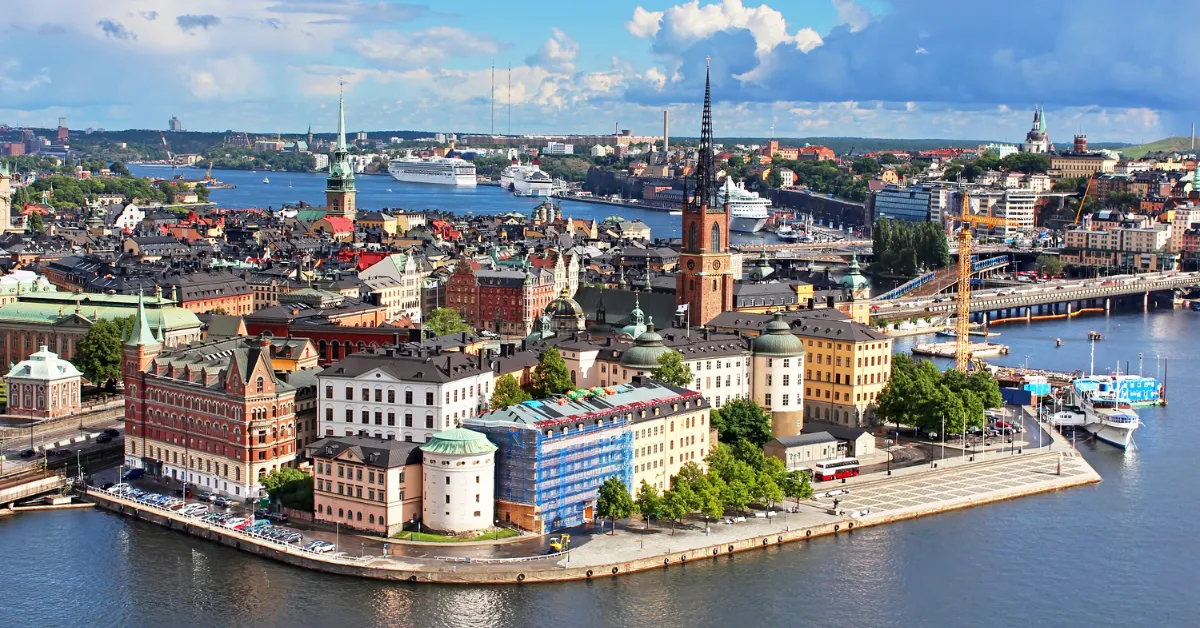 Gothenburg
Gothenburg is a large city on the southwest coast situated off the Göta älv river. It is one of the best places to live in Sweden for expats as, like Stockholm, the city is very diverse with a large foreign community. 
Gothenburg has a population of around 600,000, so there are significantly fewer people here than in Stockholm. Still, it shares a similar climate to the capital city and has an equally vibrant cultural scene.
You'll enjoy many recreational activities, including a hip cafe culture, gorgeous parks, and intriguing museums. 
Gothenburg boasts stunning natural surroundings and is a short drive from numerous mountains, lakes, rivers, forests, and coastlines. The nightlife is also eclectic, with many excellent bars and clubs and a vibrant live music scene.
As Gothenburg has the largest port in Scandinavia, there are many jobs in transportation here. In addition, manufacturing, tech, and finance are thriving industries, so foreign work opportunities are abundant. 
The cost of living here is not as high as in the capital city. The average rental fee for a one-bedroom apartment is between $650 and $1000, and you can get a 3-bedroom house for half the price as in Stockholm.
What's more, wages are more or less in line with the capital city, so you will certainly get more bang for your buck living here.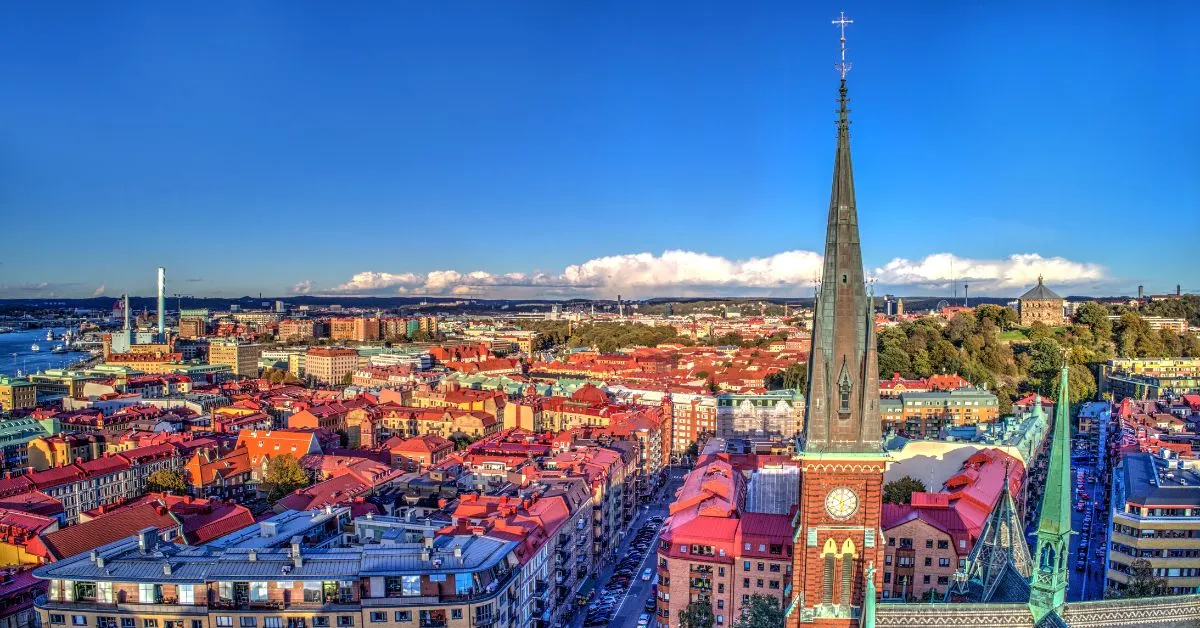 Malmo
The coastal city of Malmo on the southern coast is undoubtedly one of the best cities in Sweden for those looking for a more relaxed lifestyle yet still close to modern amenities. Less than 350,000 people live here, so the city doesn't have a crowded feel, yet it is still very internationally diverse.
Malmo is one of the best Swedish cities for digital nomads and younger expats because it has a fun, youthful ambiance.

In fact, most of the city's residents are below 35 years old, so it is not surprising that Malmo has developed the most extensive hipster scene in the country. However, if that is not your vibe, Malmo may not seem too appealing.
This southern city has plenty of jobs and investment opportunities, particularly in ​​start-ups and tech companies. However, positions in other industries and unskilled jobs for foreigners are harder to come by than in the capital city. 
Because of its geographical position, Malmo is just a 30-minute drive to Copenhagen, Denmark's capital, as the two cities are connected via a bridge. However, it is far from Stockholm and Sweden's other major cities. 
Another interesting fact about Malmo is that in 2006 it gained the label of a Fair Trade city, thanks to the cooperative effort between the city, businesses, and the local community. Thus, you know you contribute to an ethical industry when you purchase goods or eat out here.
Rental prices in Malmo are much cheaper than in Stockholm, up to 70%! You can rent a one-bedroom apartment for around $700 and a 3 bedroom house for as little as $1000.
Of course, wages are lower, approximately $2,700 per month, but this still works out to be a comfortable lifestyle.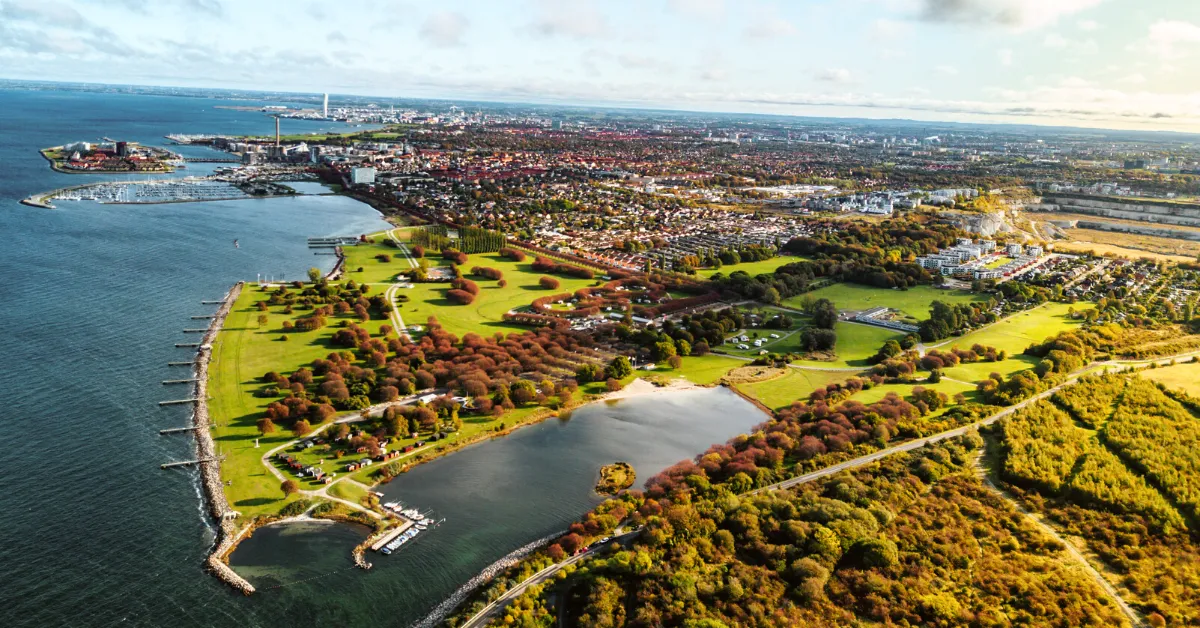 Umea
Umea is a northeastern Sweden town boasting a completely different vibe to the southern cities. The weather is much colder here, with summer temperatures averaging 11 to 21°C and winter temperatures reaching as low as -11°C.
However, suppose you love waking up to dramatic white landscapes and spending weekends on the slopes. In that case, Umea will be one of the best places to live in Sweden for you.
From ice skating and hockey to skiing and snowboarding, the cold weather does not make people stay indoors. 
Other than winter sports, Umea has a rich history and culture. You'll find some wonderful museums and restaurants in the town, and in the summer there are some fantastic festivals.
Despite its relatively remote location, the education institutes are top quality, with some excellent schools and a highly-rated university.
Compared to Stockholm, living costs are cheap. For example, you can rent a one-bedroom apartment for around $500 and a 3-bedroom house for $700.
However, there is a much less diverse range of job opportunities here and significantly lower wages. Also, note that the winters are not only freezing but also very dark, with minimal sunlight hours.
On the other hand, the summers are a complete contrast as the sun practically never sets. Thus adjusting to living here can be challenging for some.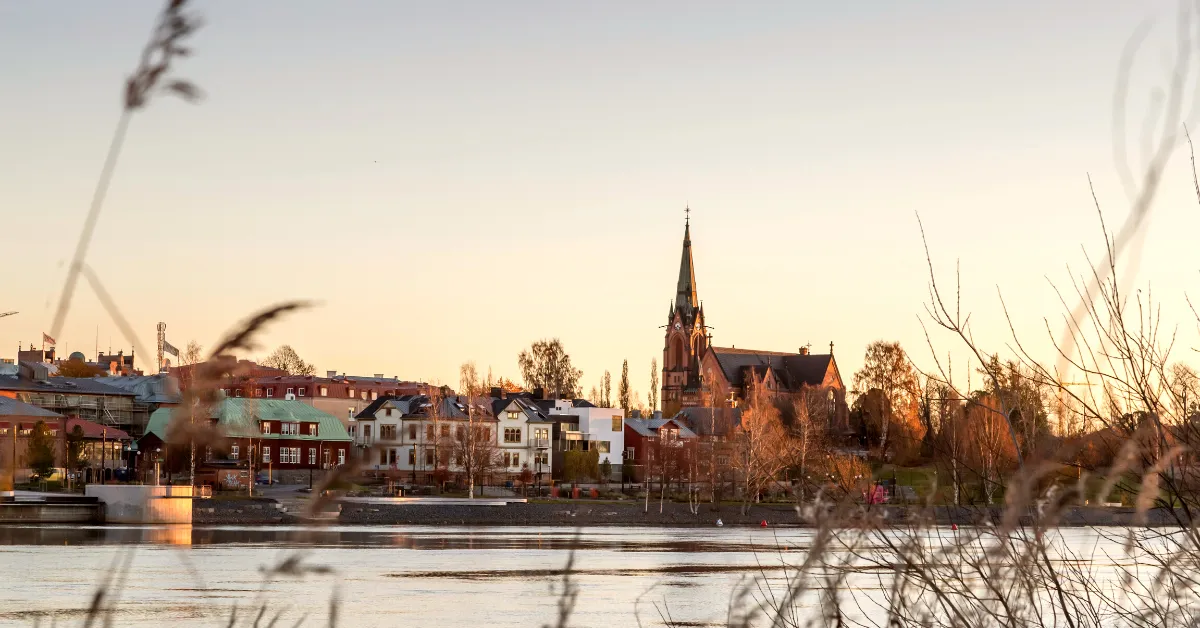 Solna
Solna is one of the best cities to live in Sweden if you want to be close to the capital but not in the center of the action.
The small city is less than an hour north of Stockholm but has a more peaceful vibe. Thus, it is popular with families as you can easily commute to the capital city. 
While rental prices are in line with Stockholm, Solna has one of Sweden's lowest corporate tax rates. Thus, many consumer prices, such as eating out, are about 20% lower here than in the capital city.
This also means the town has become a hub for start-ups. Moreover, jobs are plentiful for those who don't fancy the daily commute. 
Another perk of living in Solna is the vast array of things to do and see. There are many attractions and blissful nature, with lakes, rivers, beaches, and a national park nearby.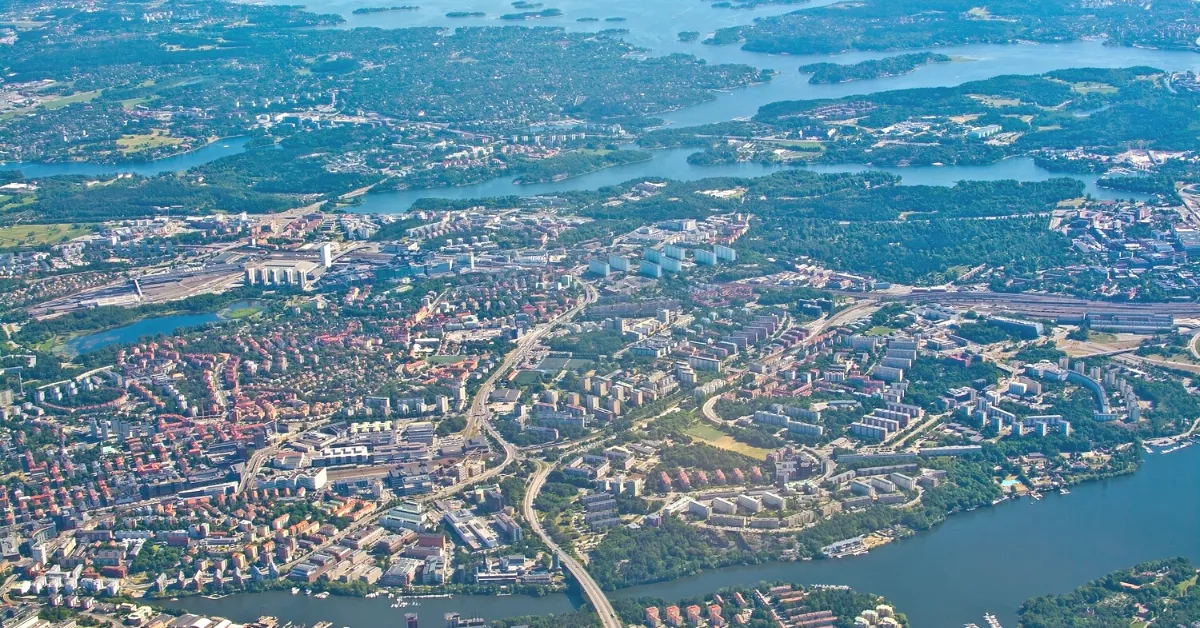 Final Thoughts On The Best Places To Live In Sweden
While each of these five best places to live in Sweden has a unique character, there is one thing you can expect from them all; a friendly and welcoming nature! This Scandinavian nation is one country where you will not feel out of place or unwelcome.
What's more, as English is their second language, there is typically no language barrier. So now you just have to decide which of these Swedish cities is best for you!
Not sure if Sweden is the right place for you? Read one of the following guides:
[ad_2]
Source link