Travel
The 5 Best Places To Live In Peru | 2022
[ad_1]
Wondering where the best places to live in Peru are?
While all South American countries are colorful and exciting, Peru is particularly desirable. You can trek through the Andes, visit ancient Inca ruins, explore the world-famous Amazon rainforest, or kick back with the locals while tucking into delicious cuisine. 
Ready to travel again? Don't go without travel insurance.
I recommend SafetyWing Nomad Insurance. I've been using it since 2019 and I can assure you it's the perfect solution for nomads like you and me.
What makes this exotic country even better is that it is an incredibly affordable place to live. Moreover, you don't have to compromise on your quality of life, as many familiar amenities and modern facilities are available.
So if the Land of the Incas is calling your name, read on. Here are the five best places to live in Peru for expats and digital nomads.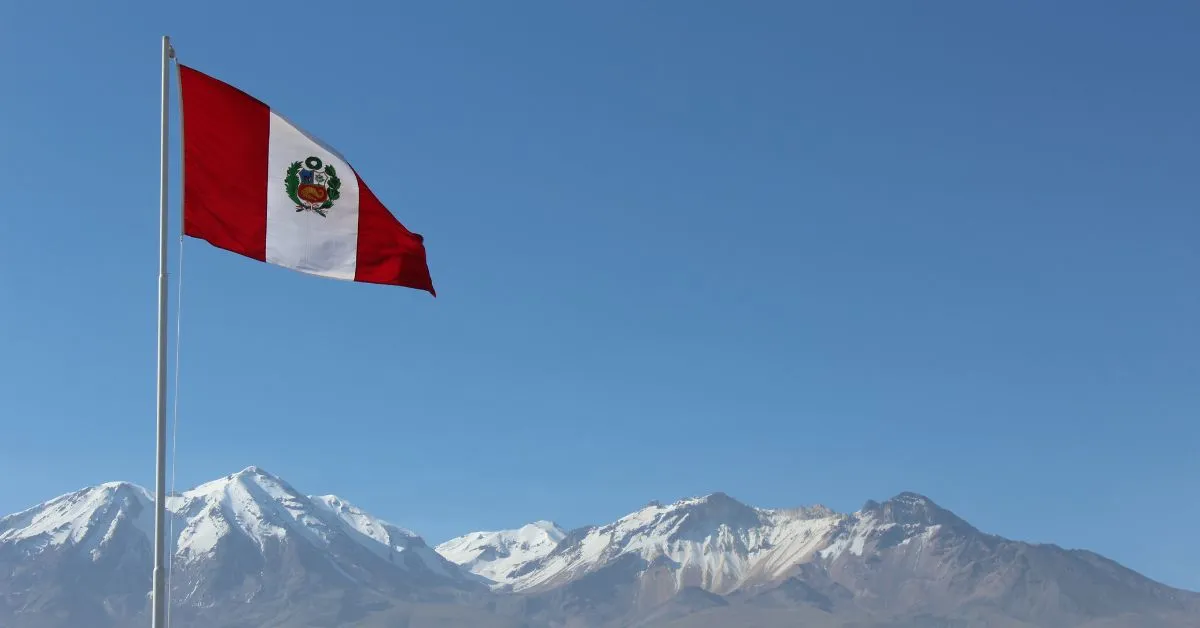 Lima 
As the capital city, bustling Lima has the largest expat population and is one of the best cities in Peru for newcomers. Aside from being the economic and cultural center of the nation, the capital boasts incredible beaches, colonial-era architecture, and a diverse range of job opportunities.
The vibrant city is known as South America's culinary capital, with many world-class international restaurants and authentic eateries serving mouthwatering local delights.
The entertainment and nightlife scene is just as colorful, yet each neighborhood has a different vibe. For example, Miraflores is a luxurious district by the beach with lots of fine-dining restaurants and high-level boutiques. 
Barranco is a historic, coastal neighborhood with a much more hipster and romantic vibe. This district is popular with the artsy crowd and digital nomads working in the creative industries.
Elsewhere, San Isidro is a popular base for foreigners working in the business district with upmarket, modern condos. 
Thus, Lima has something for everyone and a sizeable foreign community ready to welcome you to Peru's sprawling capital city. Moreover, the community here hosts regular activities and meet-ups, so you'll quickly make many friends.  
There are some downsides to Lima, though. The traffic can be pretty terrible, there is high pollution, and some areas of the city are unsafe at night. 
Lima is also the most expensive city to live in Peru. For example, one-bedroom apartments cost between $300 and $500 depending on location and level of luxury.
Aside from rent, the average monthly costs for a single person are around $450 a month.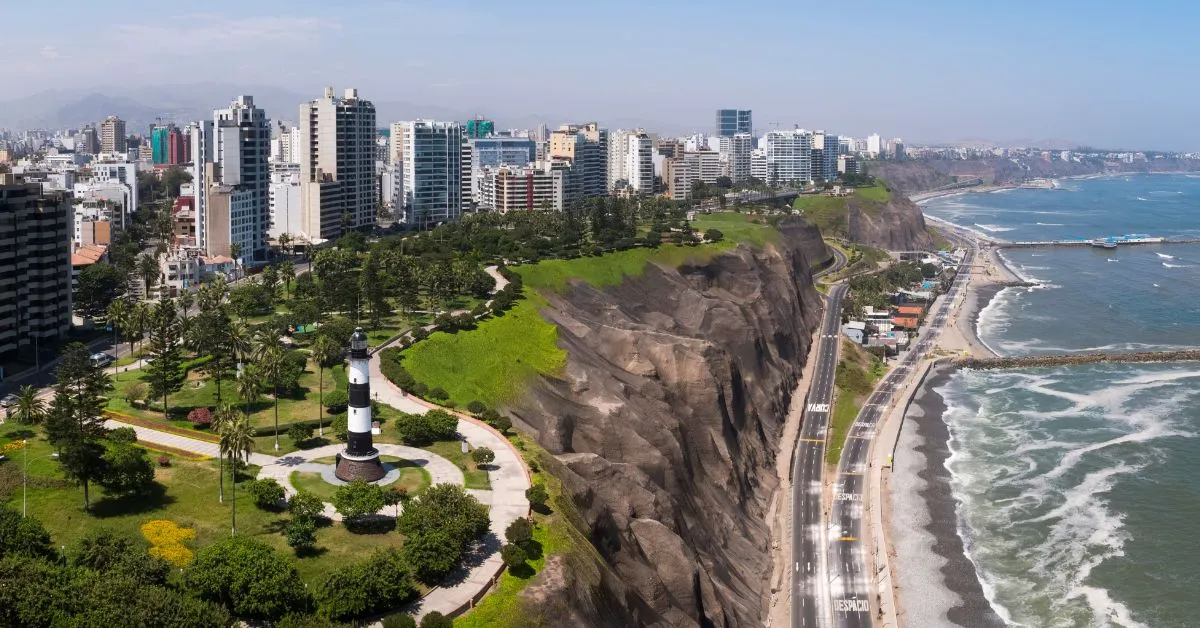 Cusco 
The inland, ancient city of Cusco in the Peruvian Andes was once the capital of the Inca Empire. It is mainly known for its archaeological remains, Inca sites, and hiking/pilgrimage trails like the famous Inca Trail.
Cusco is also close to Sacred Valley and Machu Picchu, two important symbols of the Incan Empire.
Despite its incredible history and mesmerizing cultural attractions, Cusco is one of the best cities to live in Peru for expats or remote workers.
While it doesn't have the appeal of pristine beaches, if you prefer history and culture over sunbathing and surfing, Cusco is the town for you.
The high level of tourism that passes through means many locals speak basic English. Moreover, you'll find a sizable expat community of all ages who will welcome you with open arms. 
Many live in San Blas, Cusco's most artsy, bohemian neighborhood with a cute plaza and weekend artisan market.
San Blas has a significant wellness vibe, so you'll find plenty of vegan and vegetarian restaurants and yoga studios amidst the beautiful cobblestone streets and whitewashed buildings.
Cusco is also ideal for nature lovers. The city is surrounded by incredible and diverse landscapes, from rolling foothills to towering mountains.
However, this city is best for remote workers and digital nomads unless you want to work in tourism. 
Cusco is cheaper than Lima, but accommodation prices vary between neighborhoods. Generally, one-bedroom apartments cost between $250 and $350 a month.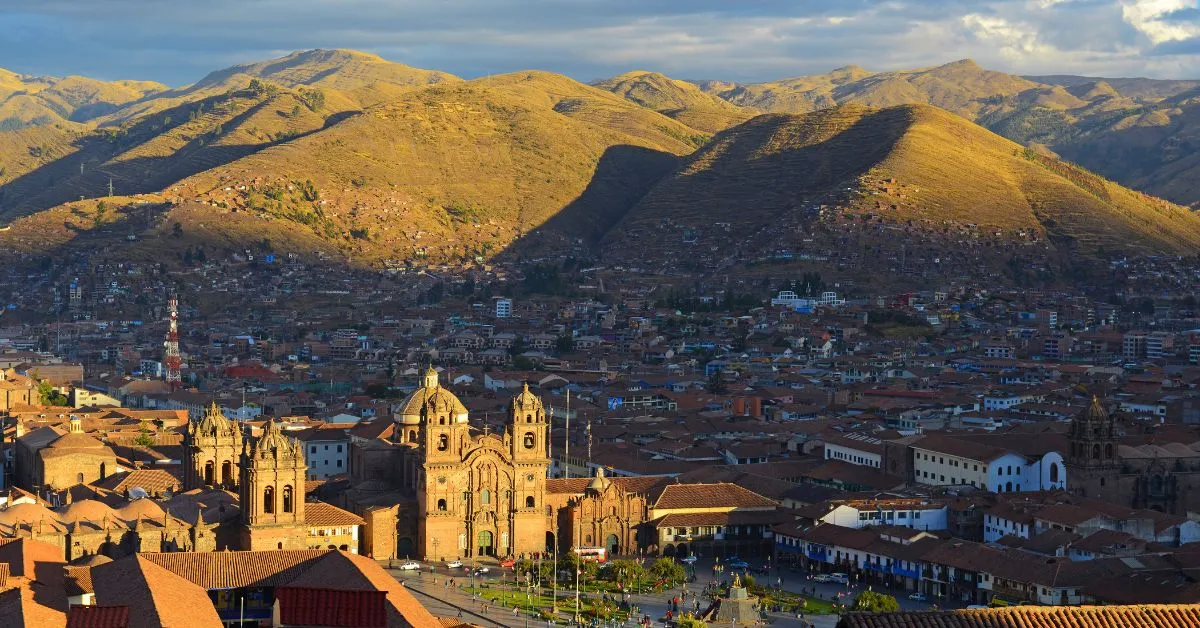 Arequipa 
The historic city of Arequipa is the capital of Peru's Arequipa Region in Southern Peru. It is just a one-hour flight from Lima, offering an excellent quality of life for a lower price than the nation's cosmopolitan capital.
Arequipa is the second largest city in the country, with a population of 1 million. It is full of beautiful bold buildings and boasts a breathtaking volcanic backdrop.
What makes Arequipa so unique is that the entire historic center was constructed from white volcanic rock, resulting in the nickname "The White City."
Arequipa is one of the best places to live in Peru for art and history lovers. There is a UNESCO World Heritage site and plenty of colonial and contemporary art museums to explore.
Moreover, because of its southern location, Arequipa enjoys all-year-round warm weather.
There are many expats in Arequipa, most of which live in the Cayma and Yanahuar districts.
The city has modern shopping malls, U.S.-style supermarkets, and many international restaurants, including Indian, Chinese, French and Italian. Thus, you will quickly feel at home here. 
There are not as many jobs for expats here as in Lima. Still, you can find manufacturing, construction, engineering, trade, sales, management, and teaching positions.
However, you'll likely need to be able to speak Spanish if working with a local company.
Rental prices are around half the cost compared to Lima, with one-bedroom apartments costing $200 or less a month. 3-bedroom houses are cheap, too, often less than $500 a month. 
In addition, restaurant prices are around 30% cheaper in Arequipa. Moreover, Arequipa is renowned for its local cuisine and traditional "Picanterias" (restaurants with communal seating).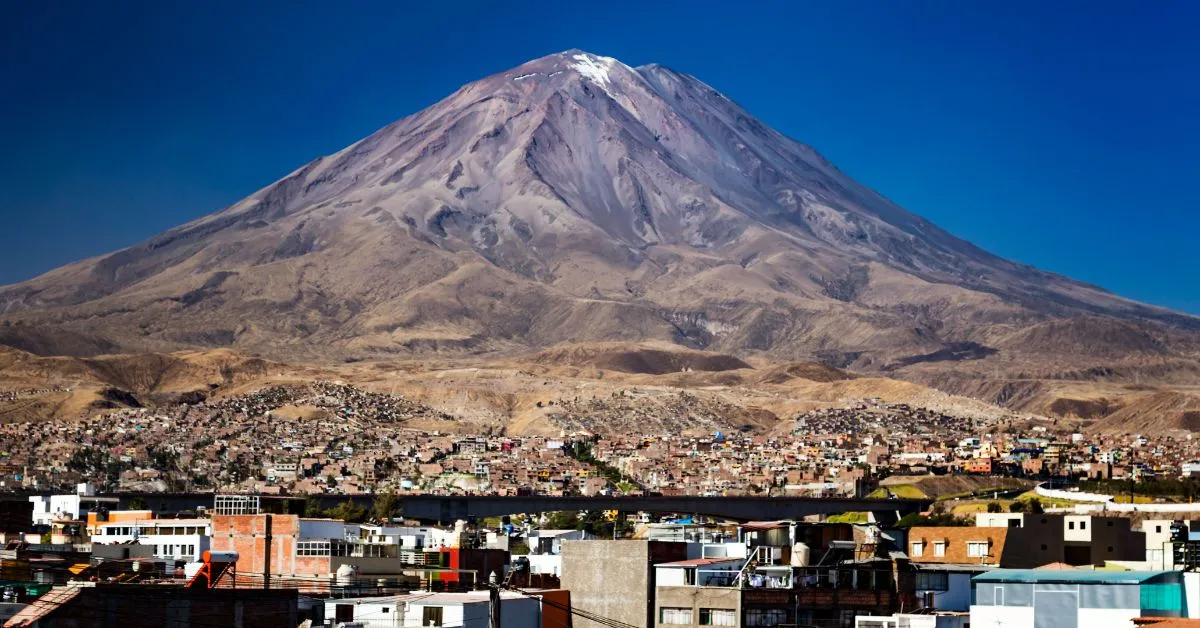 Mancora
Moving from the south to the north, Mancora is a resort town in the Piura Region. This is easily one of the best Peruvian cities for beach lovers, as Mancora boasts incredible sandy beaches and abundant sunshine all year round.
Mancora is an ever-increasing favorite among foreigners. Unlike many of Peru's other coastal cities, Mancora is exempt from the thick seasonal layer of fog.
Thus, you can enjoy uninterrupted sunbathing and make the most of the outdoor sports available here. 
The downside to Mancora is that aside from tourism, jobs for foreigners are few and far between. However, if you work remotely, there's no reason why you cannot join the small but thriving digital nomad community here.
Another thing to consider about Mancora is that it is a small town compared to Lima, Cusco, and Arequipa. Thus, if you enjoy the hustle and bustle, you might get a bit bored here. 
If you decide to stay for a while, getting a one-year rental contract is best, as short-term renting fluctuates depending on the season. Moreover, restaurant prices also tend to go up during the peak summer vacation period.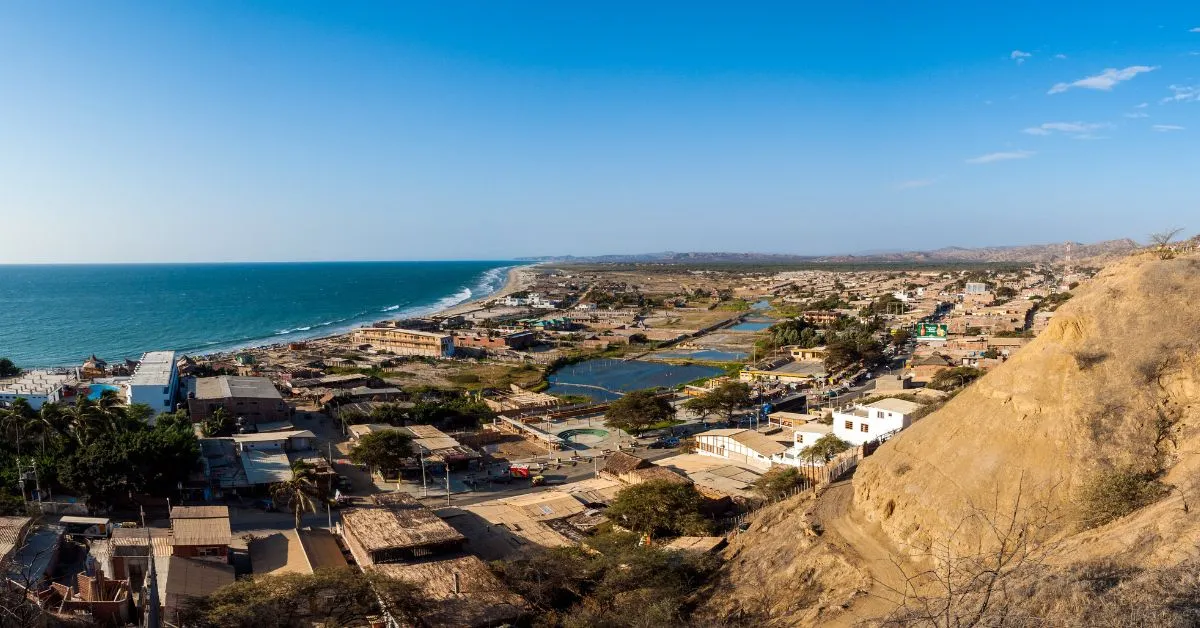 Trujillo
Trujillo, in northwest Peru, is the third largest city in the country. It is nicknamed the "Capital of the Everlasting Spring" as the weather is consistently good.
This, along with its rich culture, is why Trujillo is one of the top destinations for expats living and working in Peru.
The cultural hub is the center of the nation's traditional dance, Marinera. The city also hosts regular events and classic shows.
Because it's not as modern or westernized as some of the other best Peruvian cities, Trujillo is ideal if you want to experience authentic Peru life. 
In addition, the cost of living is meager. You can rent a one-bedroom apartment for less than $200 a month or a 3-bedroom house for not much more than $300.
Grocery prices are considerably lower here than in other cities too.
However, you won't find as many foreigners here, and it's tough to get by or find work without speaking Spanish. Thus, this stunning colonial city best suits those with previous experience living and working in South America.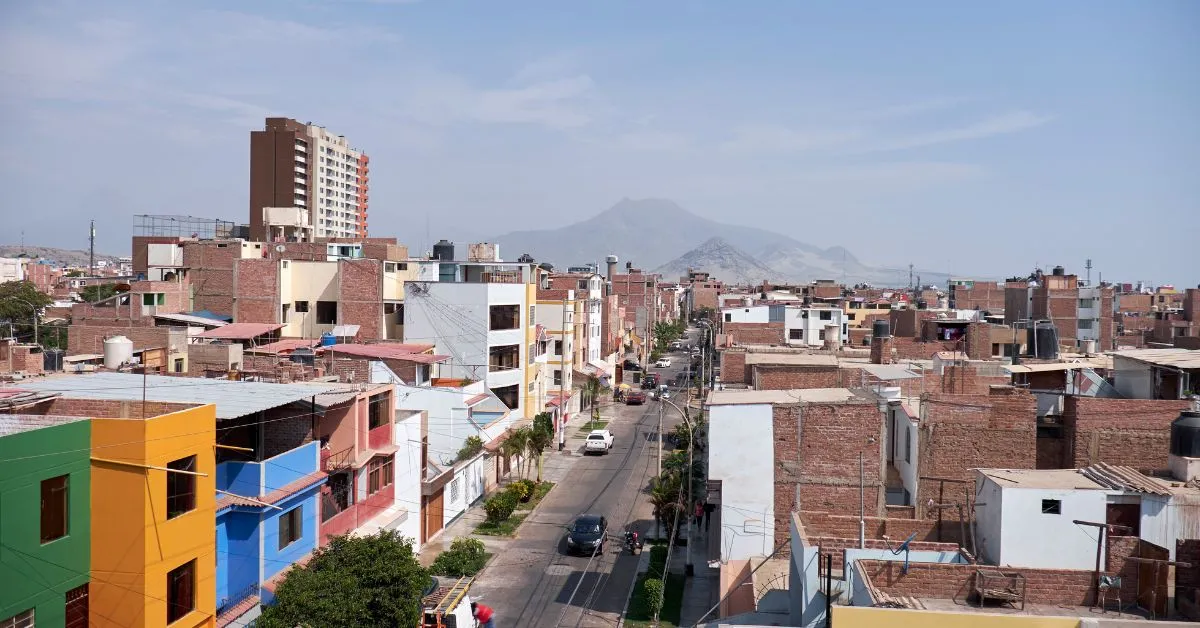 Final Thoughts On Best Places To Live In Peru
This vast nation has diverse cities and towns for all tastes. So whether you prefer a laid-back beach lifestyle, fast-paced city life, or a culture-rich experience in the Andes, one of these five best places to live in Peru will be the perfect fit. 
Not sure if Peru is the right place for you? Read one of the following guides:
[ad_2]
Source link