Travel
The 5 Best Places To Live In Morocco  | 2022
[ad_1]
Curious about the best place to live in Morocco?
If you're looking to move to a vibrant country with rich history and culture, mouthwatering cuisine, and idyllic weather, Morocco ticks all those boxes. 
Ready to travel again? Don't go without travel insurance.
I recommend SafetyWing Nomad Insurance. I've been using it since 2019 and I can assure you it's the perfect solution for nomads like you and me.
The north African nation is known for its beautiful beaches, colorful cities, ancient architecture, and tasty food. However, it is also a very affordable place to live with a great quality of life. 
While the country does have some safety concerns, the main cities and resort towns are generally safe. The following five best places to live in Morocco are favored among expats living and working there.
Marrakesh
Marrakesh is a bustling destination home to around 1 million residents, including a sizable foreign community. It is easily one of the best cities in Morocco, having a thriving economy, vibrant culture, and high-quality healthcare and education.
Marrakesh is a medieval city dating to the Berber Empire, so it has numerous historical and cultural landmarks. The streets are always full of life too, where you'll encounter many characters, from snake charmers to storytellers to musicians.
As the most prominent tourist destination in Morocco, English is widely spoken here. It is also relatively safe, and the climate is hot and dry, with very little rain.
Because of the recent growth of new hotels in Marrakesh, hospitality jobs are plentiful. In addition, there are other opportunities in tourism, education, and healthcare.
The quality of life is pretty high in this colorful city, and the average life expectancy among locals is 77 years. It's also an affordable place to live, with the average monthly rent for a one-bedroom apartment costing $200 to $400 a month.
While the city can get extremely crowded sometimes, Marrakesh does have some beautiful parks where you can escape, such as the gardens of Menara, Aguedale, and Majorelle.
However, frequent congestion can make getting around the city a problem. Plus, the internet may not be fast enough for some digital nomads.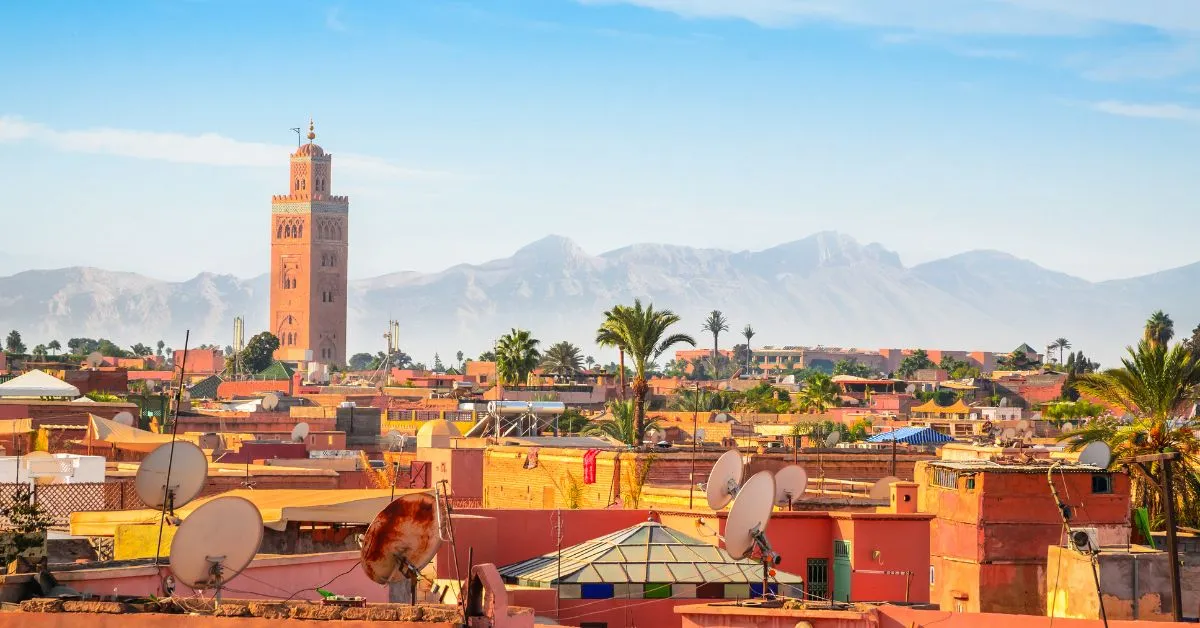 Casablanca
Casablanca is the largest city in Morocco, with over 3 million residents and the country's biggest expat community. While Casablanca is overcrowded, there are still many reasons why this bustling coastal city is one of the best places to live in Morocco.
Unlike Marrakech, Casablanca is a port city, giving access to several beaches. In addition, there is a well-developed infrastructure, diverse entertainment, and plenty of fabulous restaurants, cafes, and bars.
Healthcare and education are probably the best in the country too.
Casablanca is also the country's most significant economic and business center, so there is a broad range of job and business opportunities. You'll find jobs in all industries, from customer care to marketing to tech.
In addition, entry-level and highly skilled positions are available, so finding work is rarely a problem for foreigners here. 
Casablanca is also the favored destination for digital nomads and remote workers as the internet is fast and stable. Moreover, it's a safe city, particularly for solo expats.
However, it's probably not an ideal environment for families with children.
The cost of living is higher in Casablanca than in most other parts of the country, but the wages are significantly higher too. Thus, it's still a very affordable place to live whether you're working locally or online.
Here you can rent a one-bedroom apartment for $250 to $450. Alternatively, a 3-bedroom place costs anywhere between $400 to $800, depending on location and level of luxury.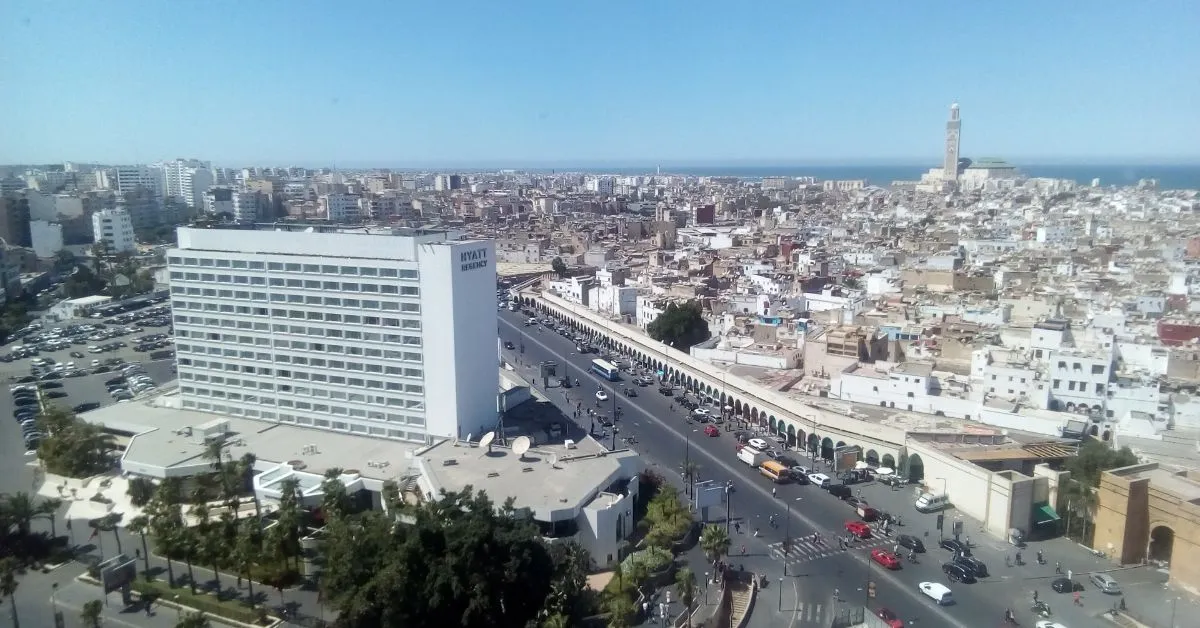 Rabat
As Marrakech is the most popular city among tourists, many people wrongly believe it is the capital. However, the lesser-known coastal city of Rabat is the capital and one of the best places to live in Morocco.
Rabat has a thriving economy and is a solid cultural and historical hub, with ancient landmarks like the 12th-century kasbah waterfront.
Like Marrakech and Casablanca, the healthcare and education here are excellent. Plus, it's relatively safe compared with other Moroccan cities. 
Located on the coast, Rabat has access to plenty of beaches along with an abundance of parks and green spaces. Although it's an old city, newer areas in town are pretty luxurious and popular with foreigners.
It is much less crowded than Marrakech and Casablanca, so it is an excellent alternative for foreigners who want to live in a city without having to deal with constant crowds. Even so, traffic congestion can still be an issue in certain parts of town. 
Although there are not quite as many jobs for expats as in Casablanca, most foreigners find work here easily. This is partly because several international companies have offices here, including Amazon, Dell, IBM, and PwC.
Moreover, as the capital has top universities, English-teaching positions are abundant.
The cost of living in the capital is the highest in the country. For example, renting a one-bedroom apartment will cost between $250 and $450, and 3 bedroom houses can cost up to $900.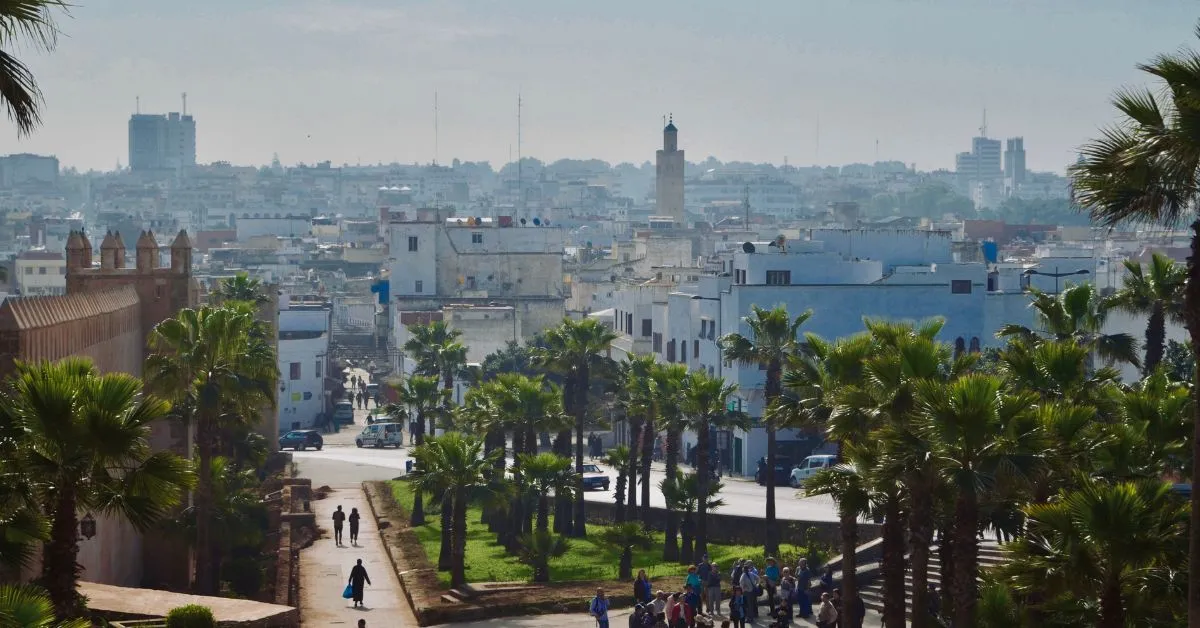 Agadir
Agadir is a famous resort town in the southwest and one of the best cities to live in for expats and remote workers looking for sun, sea, and sand. Agadir boasts beautiful beaches, a relaxed yet fun-loving vibe, and plenty of things to do and see, giving you an outstanding work-life balance. 
What makes Agadir stand out from the other best Moroccan cities is that the architecture is much more modern. The entire town was devastated by an earthquake in 1960 and was rebuilt.
It now has an excellent waterfront promenade with international and local restaurants, cafes, and bars.
Many activities are available here, such as parasailing, windsurfing, diving, and golf. Therefore, it's a fab option for anyone who wants to make the most of their free time.
Moreover, because of the high number of tourists that visit, there is a decent level of English spoken in Agadir. 
The vast majority of jobs in Agadir are in tourism and hospitality; thus, it is popular with younger expats. There are also plenty of co-working spaces and cafes to work from for digital nomads and remote workers.
The cost of living is meager compared to other Moroccan cities. For example, renting a one-bedroom apartment costs $100 to $200 a month, half the price of Casablanca.
However, restaurant prices can be higher here, especially during the high season.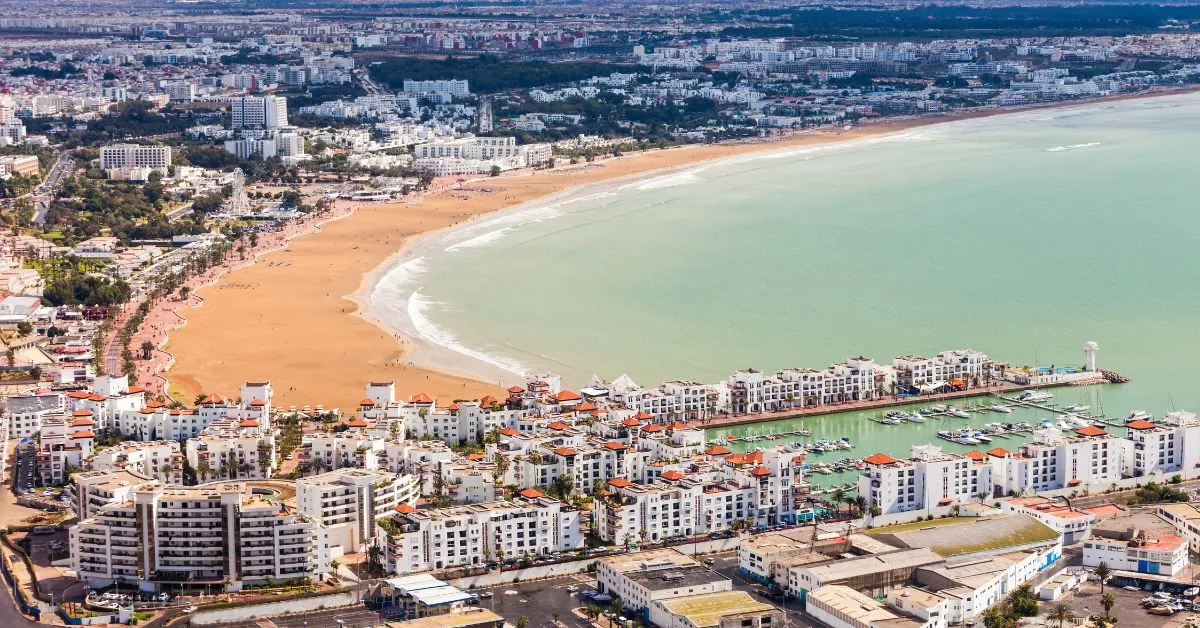 Fez
Founded in the 9th century, Fez is one of the oldest cities in Morocco and is located in the northeast. Although reasonably unknown to international visitors, Fez is often considered the country's cultural capital.
Thus, this historic town could be one of the best cities to live in Morocco if you want to experience authentic local life.
Fez also has a thriving economy and outstanding universities and colleges. Thus, the education industry offers many jobs for foreigners.
Healthcare is just as high quality, and the average life expectancy of residents here is 79 years.
One downside of Fez is that it is far from the coast, so weekend beach days are impossible. Still, this doesn't mean there is nothing to do here; there are many interesting cultural venues, such as mosques and palaces.
Another great perk about choosing Fez for living and working in Morocco is the minimal traffic congestion. This is because Fez has the largest car-free urban area in the world, so living in this city feels pleasant and peaceful.
Finally, the cost of living is meager, with rental prices in line with Agadir.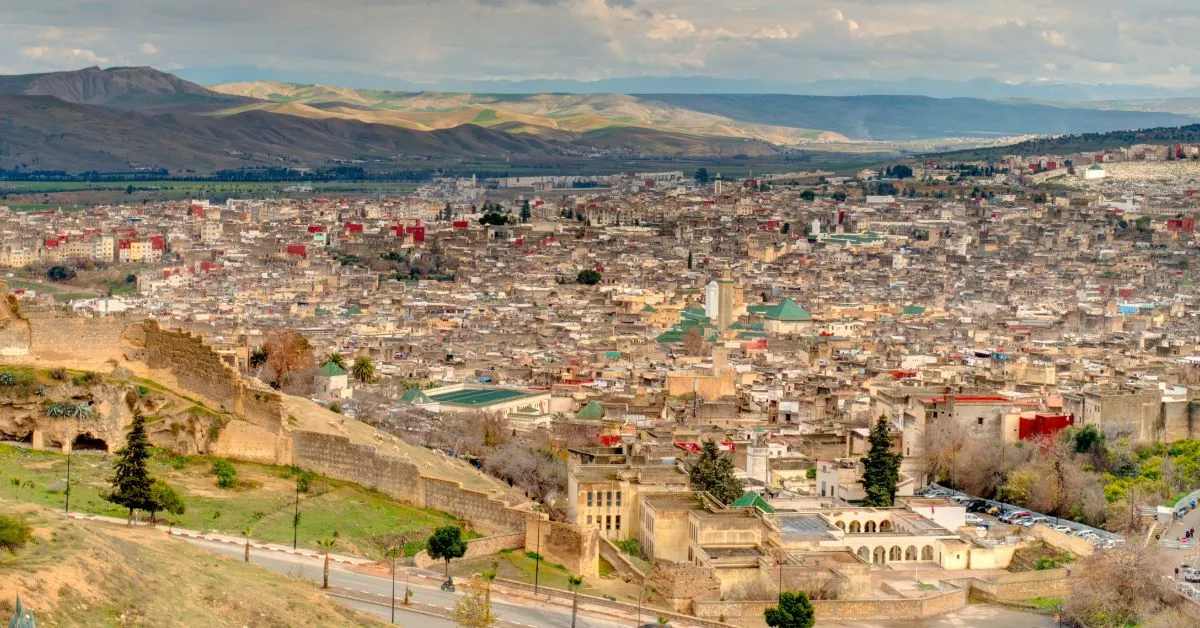 Final Thoughts On The Best Places To Live In Morocco
When deciding which of these five best places to live in Morocco is most suitable for you, consider your lifestyle preferences and career needs. Jobs are available in many industries in the larger cities.
In contrast, the coastal towns are perfect for digital nomads. But regardless of your choice, you'll enjoy gorgeous weather, deliciously fragrant food, and Morocco's iconic vibrant daily life.
Not sure if Morocco is a good destination for you? Read one of the following guides:
[ad_2]
Source link