Travel
Perfect Itinerary For 2 Days In Split | 2022
[ad_1]
Are you planning on spending 2 days in Split? Split is Croatia's second-largest city and boasts one of the most beautiful promenades on the Adriatic coast. 
It has a myriad of attractions to offer its visitors. You'll find sweeping beaches for sunbathing, Roman ruins to explore, and a stunning Old Town with narrow passageways and cobbled streets.
PSSST. Your travel medical insurance can now cover COVID-19!
If you grab SafetyWing Nomad Insurance, it'll be covered just like other illnesses. I've been using it since 2019 and I can assure you it's the perfect solution for nomads like you and me.
The ferry connections are great and you can easily spend time island-hopping or visiting nearby coastal towns.
Foodies will appreciate Split's fine cuisine and the city also has a wonderful coffee culture, where locals think nothing of spending several hours over a kava or two in the sun! Add to this the world-class nightlife and vibrant, modern city center, and you have a fascinating destination offering something for everyone.
If you are planning on spending 2 days in Split, then you may be wondering the best way to fit in the best of all its attractions. This guide is designed to help!
We've planned the perfect itinerary for you for a weekend in Split. It includes our recommendations for the ideal sights to see, things to do, and places to eat.
We've also included the best places to stay in Split, for any budget.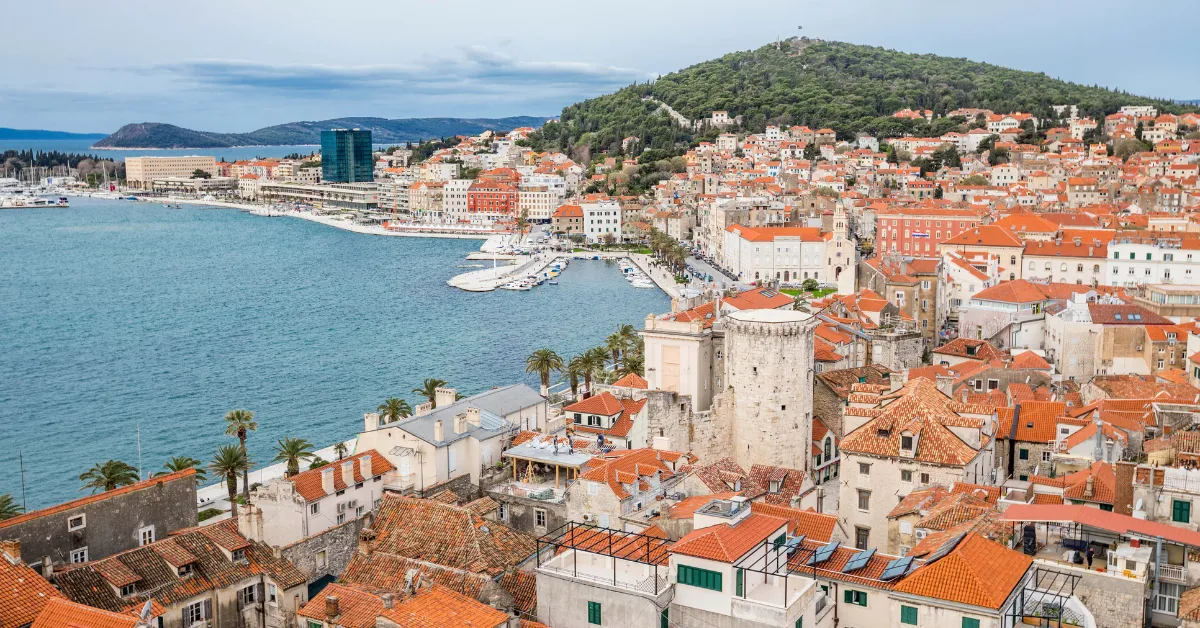 Day 1
Your first day in Split will be spent exploring its ancient center, taking in some breathtaking panoramic views, and soaking up the sun on the city's beaches. 
Morning – Visit Diocletian's Palace And See The Views From Marjan Hill
There is no better way to start your two days in Split than with a visit to Diocletian's Palace and the center of the city around it.
Dating back to the 4th century AD, the Palace was once home to the Roman Emperor Diocletian. It is one of the world's best-preserved monuments of Roman architecture, with an impressive stone entryway, a monumental courtyard, and cellars housing exhibitions, fairs, theatrical plays, and more.
Be sure to check out the Peristyle. This is the Palace's most important square and was once its religious center.
These days it is home to several cafes and is a great place to stop for your morning coffee and soak up the atmosphere. Also not to be missed is the Cathedral of St. Domnius.
It didn't become a church until a few hundred years after the death of the emperor – originally, it was intended to be his grave! It has a 14th-century Gothic-style tower, along with a fascinating crypt, Baptistery, and Treasury.
As parts of the Old Town, the Palace and Peristyle are open to visit around the clock. Almost all areas are free, although you need to buy tickets to enter the buildings inside the Palace, including the Cathedral.
Next, head to the viewpoint at Marjan Hill, just a short walk away. Past the Riva Waterfront Promenade towards Vidilica, you'll find the steps taking you there.
The climb is relatively easy and the splendid views across the city and Dalmatian coastline are more than worth the effort!
Head back to the Waterfront for lunch. Brasserie on 7 is a great choice, with a lovely harbourside setting, great service, and wonderful, fresh food. 
Afternoon – Hit The Beach
After a morning spent exploring the city's cultural attractions, an afternoon relaxing in the sun is more than welcome!
Not all of Split's beaches are your typical resort beaches with powdery soft sand. Some can be quite rocky or strewn with pebbles.
Nevertheless, they all have their own beauty and unique characteristics.
If you are looking for somewhere secluded, head to Trstenik Beach on Split's eastern side. Scenic and covered with pebbles, it has amenities including changing rooms and toilets.
Ideal for children is the pretty Kaštelet Beach, just 20 minutes from the city center. Its clear blue waters are shallow and the shoreline is made of a mixture of sand and pebbles.
If you want to hang out with the locals, try Ježinac, a pebble and sand beach in the southern foothills of the Marjan peninsula. It is safe for children to swim and has a serene, laid-back atmosphere.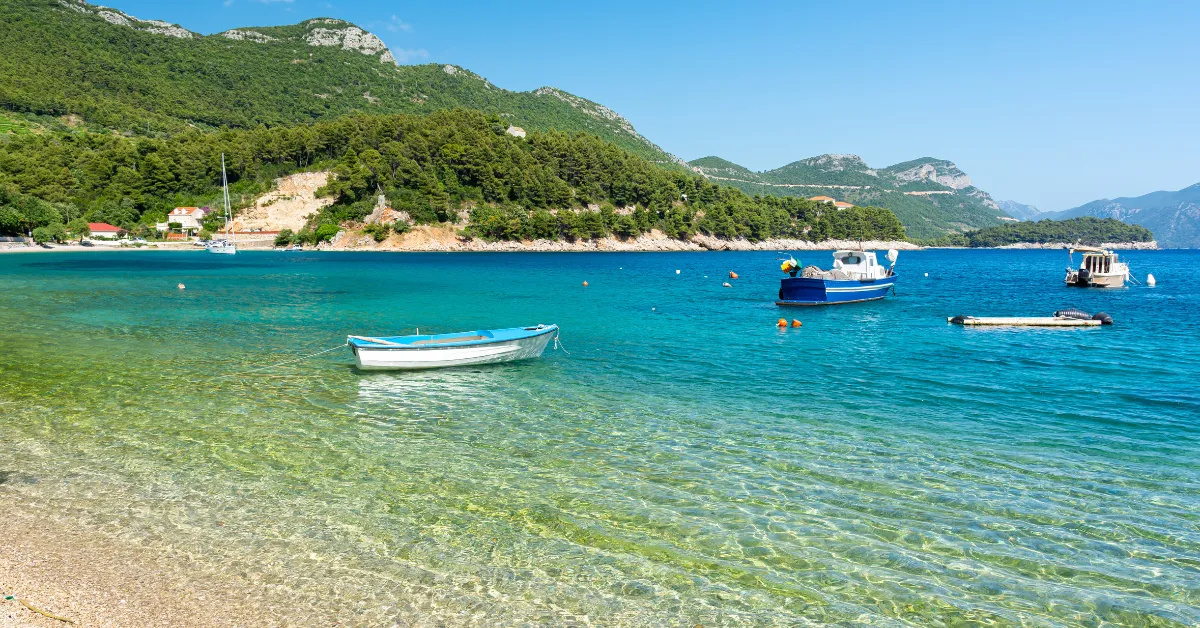 Evening – Dining In The Old Town
Day one of your weekend in Split is almost at an end – and the best way to finish is with a wonderful meal surrounded by the beautiful architecture of the Old Town.
There are a couple of fantastic restaurants to try. Villa Spiza – located in a peaceful alley near Diocletian's Palace – is cozy and unpretentious.
Yet it serves the most incredible Dalmatian cuisine, from Pag cheese to wonderful fresh seafood. 
Also worth trying is Corto Maltese Freestyle Food. It's a little pricey but serves an excellent combination of Croatian and Italian dishes.
Finish the evening with a glass of local wine at Zinfandels, an attractive contemporary bar located on one of the narrow medieval streets just outside the Palace.
Day 2
On the second of your 2 days in Split, you'll do some shopping in the markets and then visit the historic sites that have appeared in Game of Thrones. 
Morning – Shop Like A Local At The Markets
Seeing the best of Split in 2 days means experiencing the authentic atmosphere – and good food – at its markets. 
First, head to picturesque Marmontova Street for breakfast at one of its many cafes. Baza Street Food is definitely worth checking out, serving affordable food in a high-end environment.
From there it's just a short walk to the city's famous Fish Market. 
Housed in a 120-year-old building, the market is central to the city's life. It sells everything from sprats and mackerel to sea bass and lobster.
You can watch locals bartering over the day's catch with the sellers and get a real taste of life as a local. After that, head to the Green Market, located outside the eastern Diocletian Palace walls.
Here you'll find fresh produce, flowers, and clothing. It's also a great spot to pick up souvenirs from your visit. 
Why not put together the ingredients for a picnic lunch while you're here? With lots of local cheese, dried meats, and seasonal fruits to choose from, it may be your favorite meal of the weekend!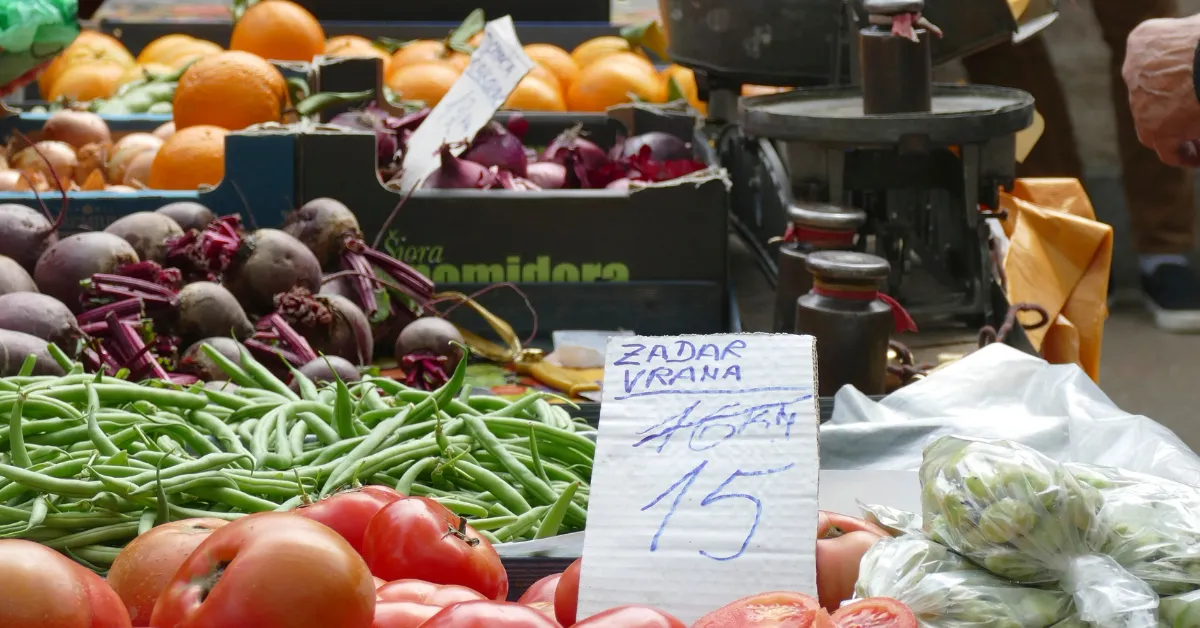 Afternoon – See The Game Of Thrones Filming Spots
Whether or not you're a fan of Game of Thrones, visiting the interesting sites where the popular series was filmed is a 'must do' when in Split.
Perhaps the best is Klis Fortress, just a 20-minute drive from the Old Town.
The Royal castle of many kings, it is one of Croatia's most important ancient sites and has UNESCO World Heritage status. You'll find a museum inside where you can learn more about its past.
Aside from its historic interest, the fortress is a great place for fans of the TV show to see the set up close and take photos. It is open daily from 8:30 AM to 10:00 PM and you'll need a ticket to enter.
Also worth a visit if you have time is the Game of Thrones Museum, just a couple of minutes walk from Diocletian's Palace, and the little village of Zrnovnica where several scenes were filmed.
To make things easier, you might prefer to book a Game of Thrones tour taking in the sights that interest you most. https://www.getyourguide.co.uk/split-l268/game-of-thrones-tours-tc358/
Evening – Experience Split's Legendary Nightlife
Split offers some of the best nightlife in Europe, so how better to end your visit than by enjoying one (or more) of its vibrant pubs or clubs? 
Marvlvs Library Jazz Bar is one of its most popular. Located in Diocletian's Palace, it has good wine, a great selection of beers, and a relaxed and welcoming atmosphere.
If you like live music, try Academia Club Ghetto on Dosud Street. Quirky and popular with locals, it has plenty of character and often hosts art exhibitions.
---
---
Are 2 Days In Split Enough?
As you can see from this guide on 'what to do in Split in 2 days', you can definitely enjoy all its main attractions within that amount of time!
Do bear in mind, though, that this itinerary is for 2 full days in Split. If you arrive late in the city or leave early on your last day, then you might want to add an extra night to give you time to see everything.
Thinking about adding more days? Read our guide to find out how many days in Split you'll need.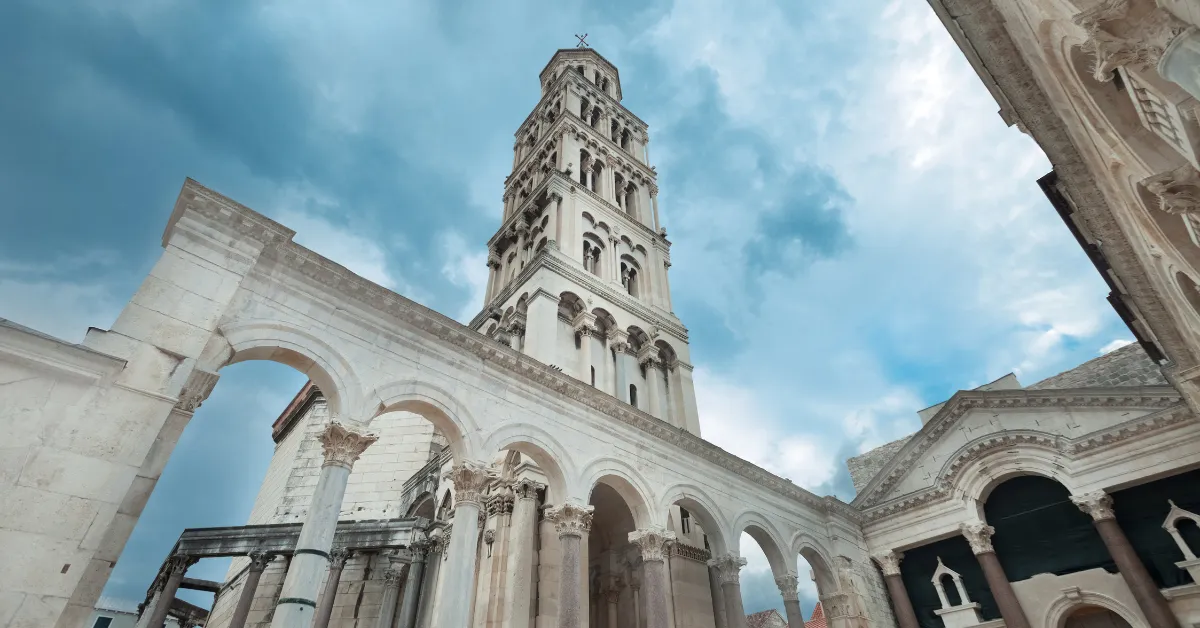 Where To Stay In Split
There are lots of great places in which to stay during your two days in Split. Here are our favorites to suit every budget!
Best Budget Accommodation
The perfect place for a low-cost stay in Split is the Old Town Hostel, located within Diocletian's Palace and just an 18-minute walk from the beach. With all of Split's main attractions virtually on your doorstep, this is a great location for backpackers.
Just $64 will get you a double room for the night with an extra-large double bed. Other facilities are shared, including the bathroom, kitchen, and lounge.
There is also free wifi and the staff is welcoming and extremely knowledgeable about the area.
Best Mid-Range Accommodation
Visitors to the Piazza Heritage Hotel describe it as 'superb' – and it's easy to see why! It's in an excellent location, just 100 yards from Diocletian's Palace and only a 10-minute walk from the beach!
Each room has a seating area, cable and satellite TV, a private bathroom, and a minibar. There is also free wifi and an a-la-carte restaurant on the ground floor.
A deluxe double room with a city view costs $283 for one night, with breakfast included.
Best Luxury Accommodation
If you really want to treat yourself, stay for your weekend in Split at the fabulous Radisson Blu Resort & Spa.
This world-class resort is located beside the beach, just 1.6 miles (2.6 kilometers) from Diocletian's Palace.
Offering both indoor and outdoor pools, it also has a luxurious spa with saunas, steam massages, and a steam bath. After a session at the gym, you can head down to the stunning beach club to soak up the sun.
Most rooms have a balcony with views overlooking the islands of Brač and Šolta. They also have air-conditioning, en-suite bathrooms, and flat-screen TVs.
A superior room with a large double bed costs $480 for one night, including breakfast at the outdoor terrace of The Fig Leaf restaurant.
Final Thoughts On Two Days In Split
Split is one of those destinations that contrasts history with contemporary life, where you can visit ancient sites in the morning and dance at vibrant, modern clubs into the small hours! 
With its mild climate, it is a great place to visit at any time of year, although if you're a beach lover the months of July and August are ideal!
I hope you have found this guide to seeing Split in 2 days useful. I also hope you enjoy every moment of your visit to this warm and welcoming city.
Visiting Croatia soon? Read one of the following guides:
[ad_2]
Source link