Travel
Perfect 2 Days In Thessaloniki Itinerary | 2022
[ad_1]
Spending 2 days in Thessaloniki? Keep reading to find out how to spend your time here.
Greece's second-largest city, Thessaloniki is a unique destination that offers its visitors a little bit of everything.
Ready to travel again? Don't go without travel insurance.
I recommend SafetyWing Nomad Insurance. I've been using it since 2019 and I can assure you it's the perfect solution for nomads like you and me.
History lovers will be awed by its ancient monuments dating back to Roman, Byzantine, and Venetian times. Anyone who appreciates culture, meanwhile, will be drawn by the many events and festivals held here.
The architecture is a mixture of old and new that all seems to blend together perfectly. And the overall vibe is modern and vibrant, thanks to the city's huge student community.
If you're visiting for the very first time then you might be wondering what to do in Thessaloniki in 2 days. So you'll be happy to hear that this guide is going to make planning your itinerary a whole lot easier!
Here are our suggestions for what to do each morning, afternoon, and evening during your visit. You will also find recommendations for great places to eat and stay in the city.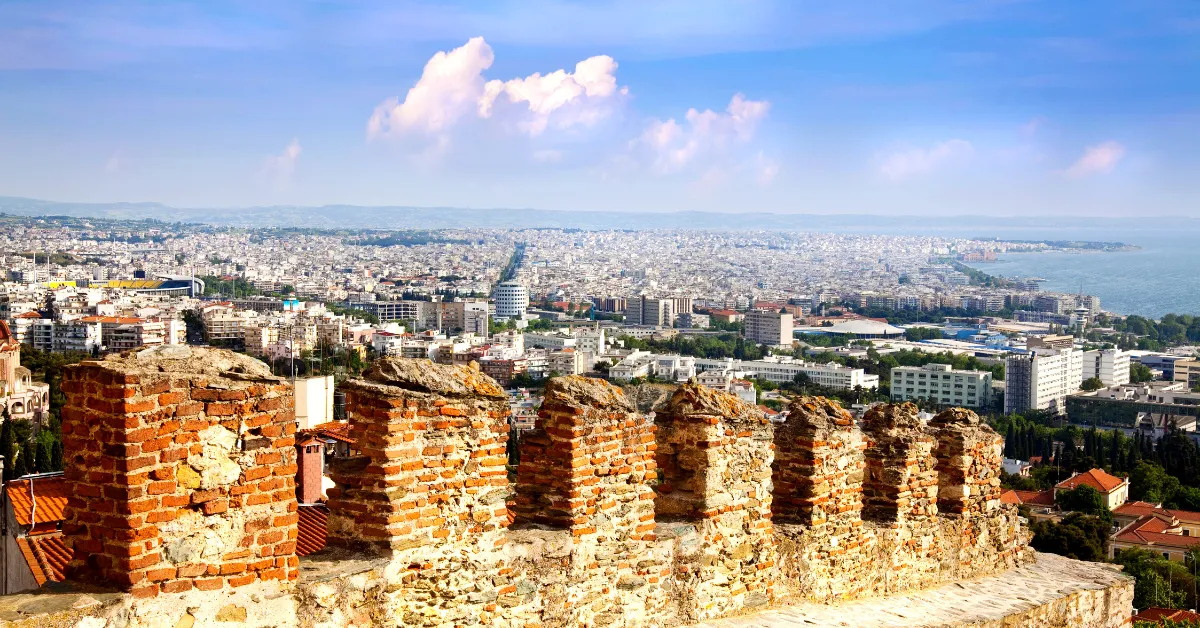 Day 1
On the first day of your weekend in Thessaloniki you'll be seeing its historical monuments, exploring its markets and promenade, and paying a visit to one of the city's best museums.
Morning
The perfect place to start your day is at the most famous monument in Thessaloniki – The White Tower.
It was built early in the 16th century and has a grisly history, used as a prison when Greece was occupied by the Ottomans. So brutal was the prisoners' treatment at this time that the building gained the nickname 'The Tower of Blood'.
Quite how it later became The White Tower isn't too clear. One story is that the Greeks renamed it in 1913 following their recapture of the city.
Another suggests that a prisoner repainted it white in 1890 in exchange for his liberty.
These days, the tower is a much more pleasant place to be. It houses a museum with six floors dedicated to the history of Thessaloniki from the times of the Romans until the present day.
Be sure to visit the top floor, where you get awesome 360-degree views of the surrounding cityscape and sea, with Mount Olympus in the distance.
Your next stop is the Museum of Byzantine Culture, just over a 10-minute walk away.
Here you can see an incredible collection of artifacts, mosaics, and jewelry from the Byzantine Empire, along with impressive sculptures and icons.
Beautifully organized, the museum has 11 themed rooms and is nice and spacious, so it doesn't feel too crowded.
From there, head down to the waterfront for a pleasant stroll along the promenade.
5 km long and recently renovated, it has a very vibrant atmosphere and is packed with bars and restaurants.
You can see a modern sculpture called 'The Umbrellas' close to The White Tower and many themed gardens, with names like 'The Garden of the Afternoon Sun' and 'The Garden of the Mediterranean'.
You might like to stop for lunch at one of the cafes here, or save your appetite for one of Thessaloniki's markets, your first stop this afternoon.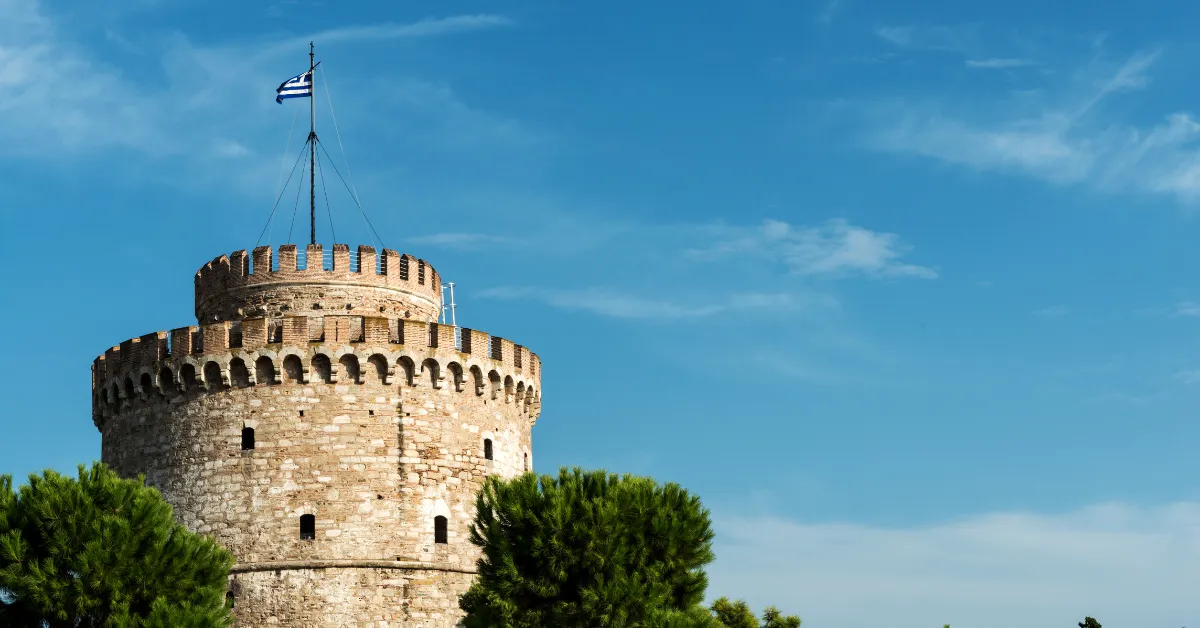 Afternoon
Thessaloniki has two main markets – Modiano and Kapani – and they are located side by side near Ermou Street.
Visiting the market of any new city is always the best way to get a taste of the region's culture, and these markets are no exception.
Here you'll find everything from meat and fish to traditional Greek cheeses and olives. There are also plenty of places to stop for a bite to eat!
From the markets, head to some of the city's most famous archaeological sites.
Right in the middle are the Greek Agora and Roman Forum, once the religious and social center of Thessaloniki. It's pretty cool to note how this ancient site has sat undisturbed while a bustling and modern city has grown up all around it.
Nearby is The Arch of Galerius which is also known as 'Kamara'. This triumphal arch was constructed in 299 AD to celebrate the Roman Emperor Galerius' victory over the Persians at that time.
The monument has undergone quite a bit of restoration with modern bricks, but marble slabs depicting the wars remain on the two pillars of the central arched passageway.
Next up is the Rotunda of Galerius. This was also built by the Emperor, likely as his mausoleum.
It has seen lots of changes over the years, serving as a church after the arrival of Christianity, then being converted to a mosque by the Ottomans.
The last stop of the day is the Galerius Palace on Navarinou Square. Although it originally formed part of a huge complex, there isn't very much left at the site today.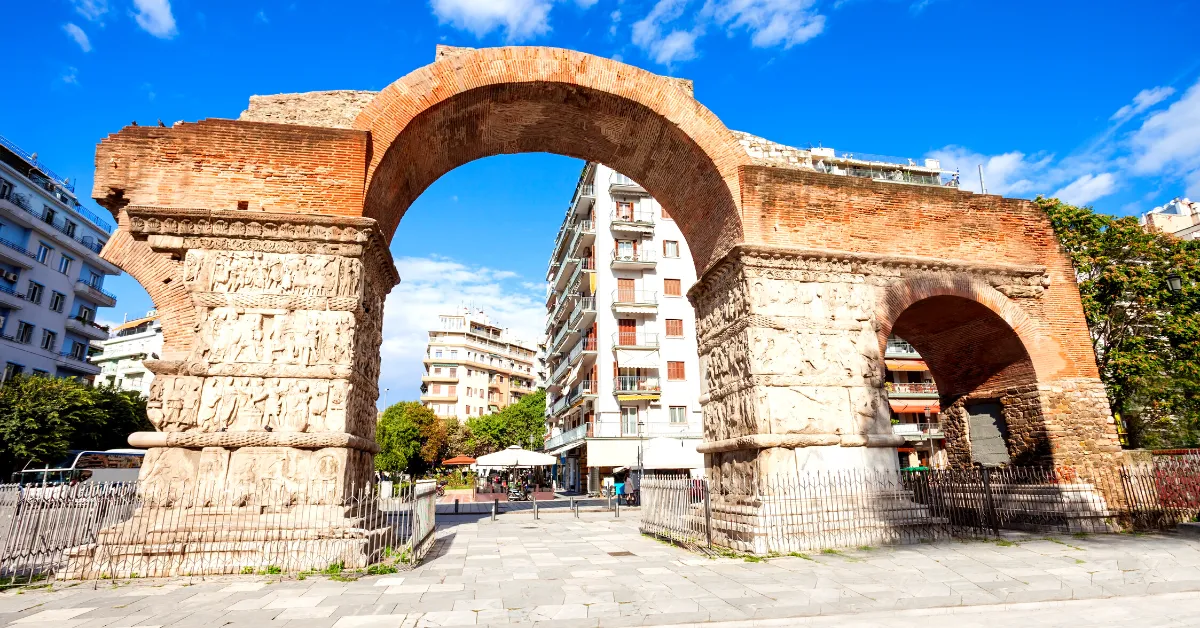 ---
---
Evening
The excellent cuisine is one of the main reasons to visit Greece and Thessaloniki has more than its share of traditional tavernas. One of the best is Foul Tou Meze in the historic Ladadika district.
Here you can feast on a wide variety of classic Greek dishes, from incredible kebabs to mouthwatering salads. The ingredients used are locally sourced and absolutely delicious!
Day 2
On the second of your two days in Thessaloniki you'll visit the city's old town, admire a couple of its beautiful churches, and marvel at the exhibits in the absorbing Archaeological Museum.
Morning
It may be in the north of the city, but there's no doubt that Ana Poli serves as Thessaloniki's historic heart. That's because it was the only historic neighborhood to survive the Great Fire that ravaged the city in 1917.
Enclosed by the UNESCO-rated remains of imposing Byzantine walls, this picturesque part of the city is very easy to explore on foot.
Pretty colorful little houses huddle together side by side and there are charming cafes and tavernas at every turn, just inviting you to sit and soak up the atmosphere.
Look out for the Trigoniou Tower which was used as both an armory and a prison, and The Portara Gate, which used to lead to the Acropolis. You'll also find The Eptapirgion here.
This ancient fortress was built in the Venetian period and housed Thessaloniki's prison from the end of the 18th century until 1988. These days it is a cultural center.
Ana Poli is also home to many significant religious buildings.
The 14th-century Monastery of Vlatadon is a great example. It has UNESCO World Heritage Status and affords magnificent views over the city.
There are some delightful churches, too, that are really worth visiting if you have time. Don't miss the church of Agios Nikolaos, which looks plain on the outside but has a stunning interior with beautiful frescoes.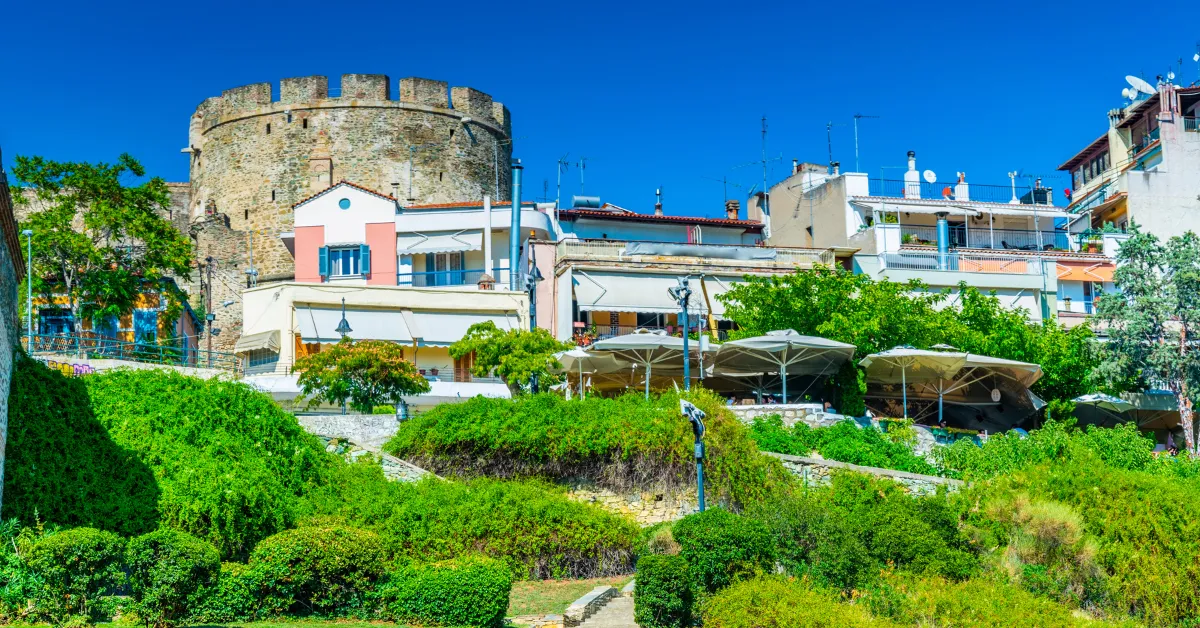 Afternoon
Visiting the incredible Archaeological Museum of Thessaloniki this afternoon will be one of the highlights of your two days in Thessaloniki.
This state museum of the Ministry of Culture opened its doors in 2006 and is one of the largest in the country. The building housing it was designed by Patroklos Karantinos and is a listed modern heritage monument.
Inside you'll find a vast collection of artifacts discovered during excavations conducted throughout Macedonia since 1912. There are also items that were formerly parts of private collections and later donated.
The museum is well organized, with exhibits from the Prehistoric, Archaic, Classical, Hellenistic, and Roman eras organized into eight different sections.
The modern signage is engaging and there are interesting temporary exhibitions to enjoy too.
To end your afternoon, take the 20-minute stroll to see the Church of Saint Dimitrios.
Dedicated to the patron saint of Thessaloniki, this UNESCO World Heritage church is the largest in the city.
It underwent extensive renovation following the Great Fire in 1917 but still retains some important original features. These include the 7C Byzantine mosaics that decorate the pillars at the entrance to the apse.
Be sure to check out the catacombs which contain artifacts revealed during excavations in the 1930s and 1940s.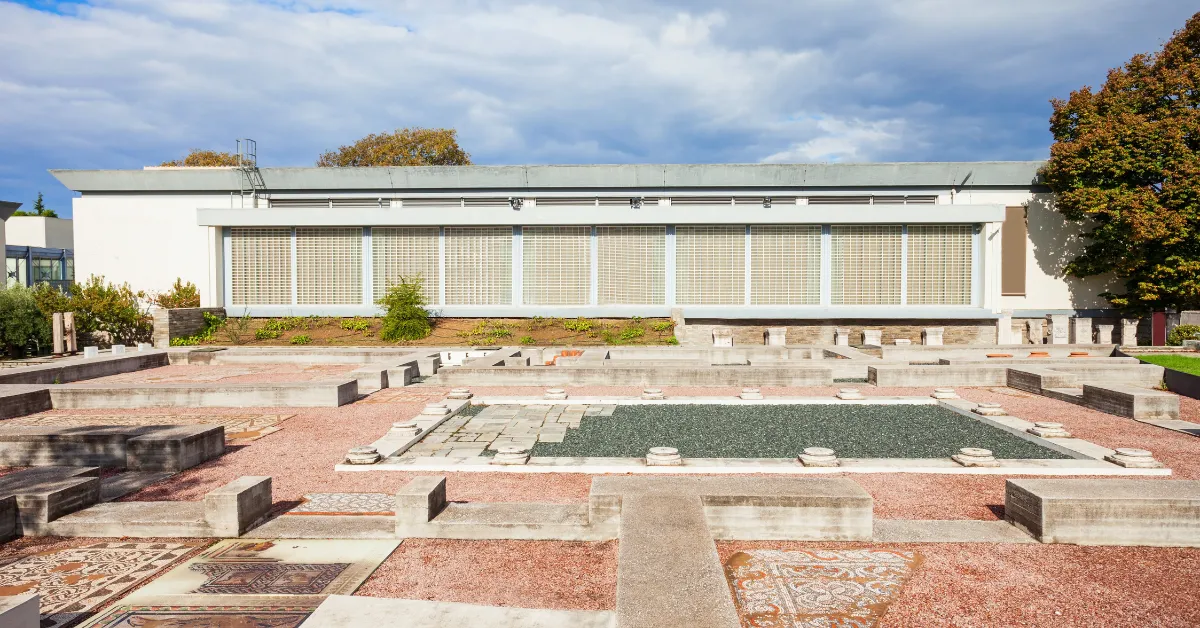 Evening
After seeing the best of Thessaloniki in 2 days it's time to experience a little of its famous nightlife! The best place to do this is at Valaoritou street, a narrow thoroughfare lined with bistros, bars, and clubs.
In particular, we'd recommend relaxing with a cocktail at one of the rooftop bars, especially if you're visiting in the summer. Stin Taratsa (formerly known as Fragile) is one of the most popular.
Are 2 Days In Thessaloniki Enough?
2 days is the perfect amount of time in which to see the best of Thessaloniki. In fact, the city is the ideal choice for a short break because most of the main attractions are within easy walking distance of each other.
If you choose to follow our itinerary for two days in Thessaloniki, make sure that your arrival and departure times in the city will allow for two FULL days. If not, you might want to consider adding an extra night to your stay.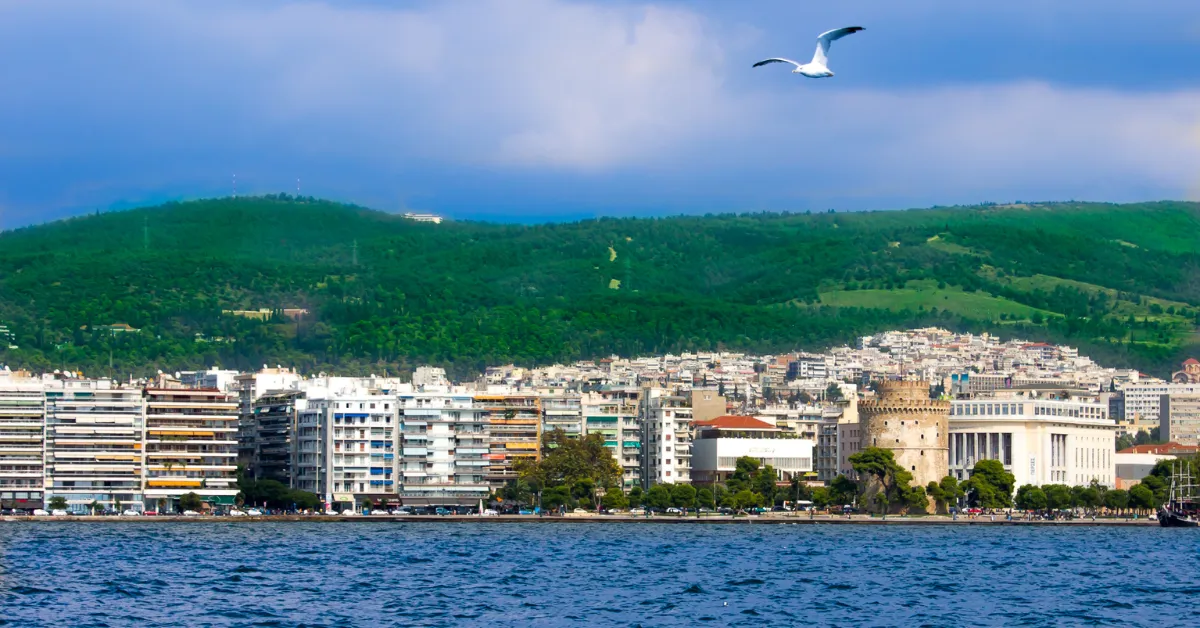 Where To Stay In Thessaloniki
Here are some of our favorite places to stay in Thessaloniki, with a suggestion to suit every budget!
Best Budget Accommodation
The Stay Hybrid Hostel is located near Ladadika and Valaoritou, so it's ideal if you're looking for somewhere with a great nightlife. Each air-conditioned room is decorated with unique musical references and private rooms have en-suite bathrooms and flat-screen TVs.
There is also a shared kitchen and a rooftop terrace – a great place to meet and chat with other travelers as you admire the views!
Best Mid-Range Accommodation
The Modernist Thessaloniki has a great location in the heart of the city and is housed in a 1920's heritage building.
It is tastefully furnished in minimalist style and all rooms feature parquet flooring, flat-screen TVs, Nespresso machines, and air conditioning. Some rooms come with balconies.
A delicious breakfast is served every day on the rooftop terrace and massages can be arranged on request, with guests enjoying a discount at a nearby fitness center.
Best Luxury Accommodation
Pamper yourself in 5-star luxury at the Electra Palace Thessaloniki. This exquisite hotel is located in the center of the city on Aristotelous Square
The large rooms are classically decorated with wooden floors and furniture. Each is equipped with a laptop-sized safe, a minibar, and a flat-screen TV, whilst the marble bathrooms come with a tub, bathrobes, slippers, and complimentary toiletries.
The top floor of the hotel is home to its Roof Garden Restaurant Bar, which provides panoramic views of the Thermaic Gulf. This is also the place to enjoy a sumptuous Greek breakfast with fresh produce, which is served every morning.
Final Thoughts On Two Days In Thessaloniki
Thessaloniki is a great destination for a short break and offers various attractions.
We hope our guide for seeing this vibrant city in 2 days has made it easy to plan your visit and that you enjoy every aspect of your stay.
Visiting Greece soon? Read one of the following guides:
[ad_2]
Source link