Travel
Perfect 2 Days In Interlaken Itinerary | 2022
[ad_1]
The small Swiss town of Interlaken is beautifully located – as its name suggests – between two lakes.
Attracting backpackers and travelers from all around the world, this stunning resort offers spectacular scenery, with soaring snowy mountains contrasted against the vividly blue, crystal clear water.
Ready to travel again? Don't go without travel insurance.
I recommend SafetyWing Nomad Insurance. I've been using it since 2019 and I can assure you it's the perfect solution for nomads like you and me.
There are lots of different activities to enjoy in the area, from exploring picturesque villages and shopping to hiking and kayaking. No matter what sort of break you are looking for – relaxing or sporty – you can find it in this captivating little town.
If you are visiting for the first time you might be wondering what to do in Interlaken in 2 days and which are the main attractions you really shouldn't miss.
So we've put together this handy guide to make planning your trip a whole lot easier!
Along with recommendations for the best places to dine and stay, we've included a comprehensive itinerary for your weekend in Interlaken.
Read on to discover the very best things to do each morning, afternoon, and evening of your visit.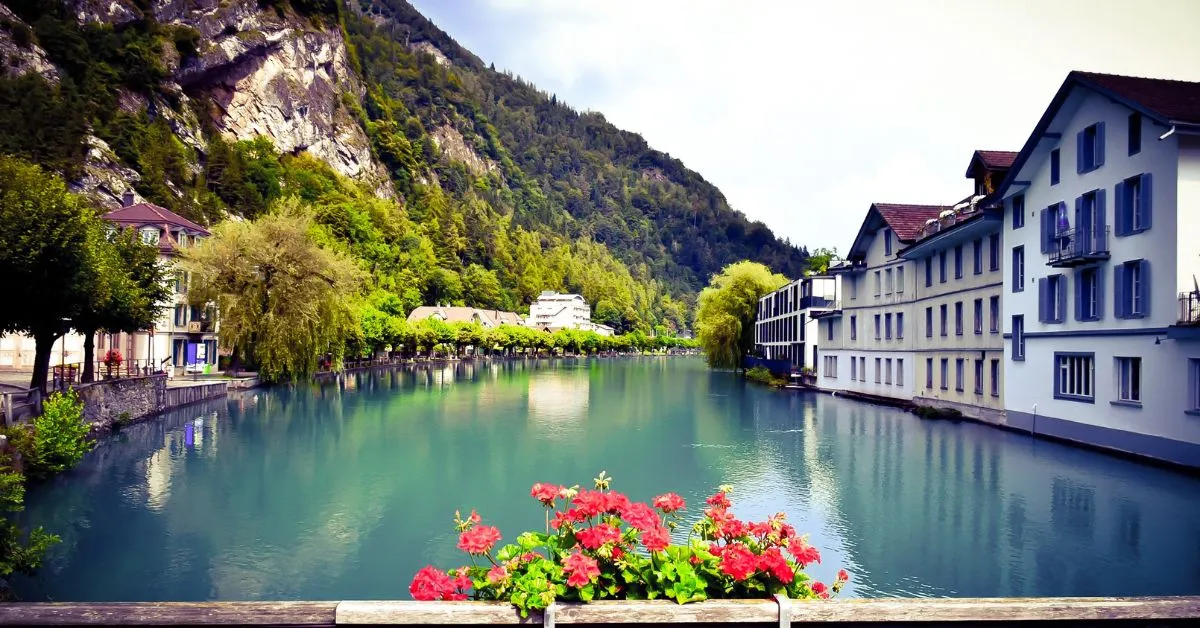 Day 1
On the first of your two days in Interlaken, you'll be visiting a historic town on the shore of Lake Thun, heading to the top of the local mountain, then touring the region's most beautiful lake.
Morning
Start with breakfast at the Velo Cafe and Bar, a laid-back and cozy spot located on a small street in the center of town. You'll get a warm welcome, excellent coffee, and a great choice of food, with lots of vegan options.
From there make your way to Unterseen, just 5 minutes away. Strolling through the streets of this medieval town is a lovely way to kick off your 2 days in Interlaken.
Less touristy – and therefore quieter – than many of the area's other attractions, Unterseen has a great museum located in the town square.
Devoted to Alpine tourism and spread over three floors, it makes a great introduction to the area and allows you to see the changes that the tourist industry has brought to the Bernese Oberland.
Afterward, stroll to the old marketplace to see the tower of a 13th-century church, and check out the Stadthaus restaurant, which was once a 15th-century inn for cattle drivers.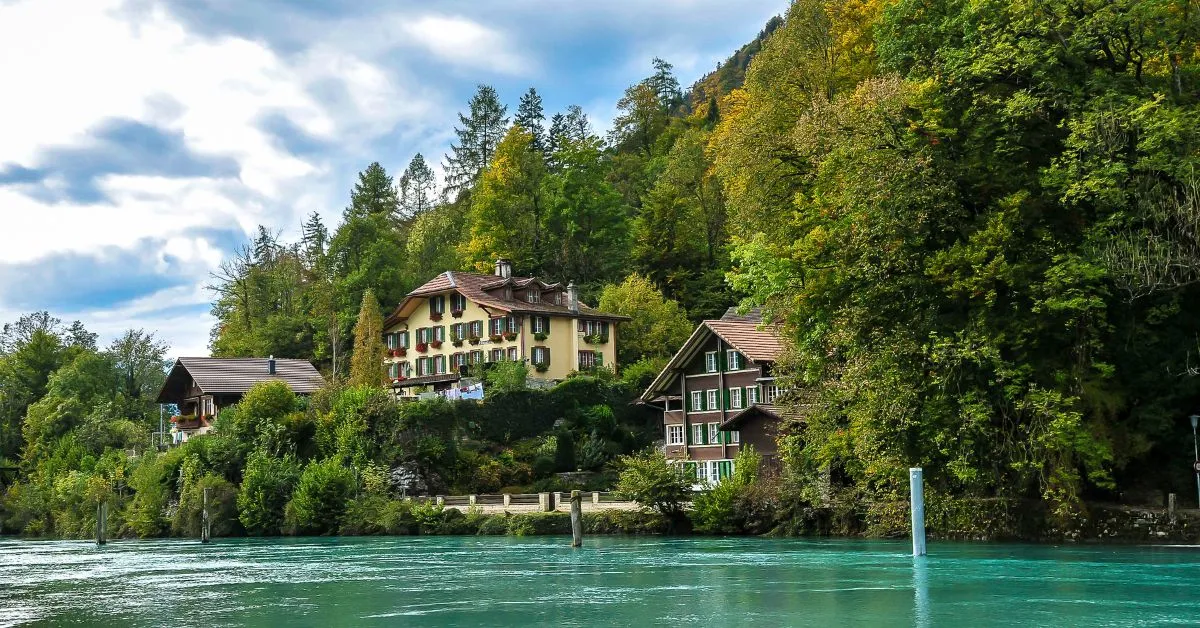 Your next stop is the highlight of the morning – a funicular ride to the Top of the Harder Kulm, Interlaken's local mountain. The base station of the Harderbahn is just a short walk from Interlaken Ost.
At an elevation of over 1200 meters, it offers unbeatable views of the town. A funicular has been making the journey to its peak for over 100 years and the 8-minute ride is very enjoyable, passing through a forest and taking you past a wildlife park.
You travel almost vertically, so it's also pretty exciting, especially considering the fabulous views of the surrounding mountains and lakes around you as you ascend.
Once you get to the top, you have a short walk until you reach the glass-bottomed viewing platform. There is also a restaurant with indoor and outdoor seating – the perfect spot to stop for lunch!
Afternoon
On your first afternoon in Interlaken, you'll be experiencing the beauty of one of its lakes.
There are two in the region – Lake Brienz and Lake Thun. Both are quite spectacular, but when seeing the best of Interlaken in 2 days there's really only time to focus on one.
So we recommend touring Lake Brienz, which many visitors agree is the prettiest!
The waters of Lake Brienz are an incredible turquoise color due to the tiny glacial particles they contain. Surrounded by mountains on all sides, the lake is an unforgettable sight.
There are a couple of ways to enjoy it. One very hands-on approach is to join a Kayaking Tour. With a guide to ensure your safety, you can undertake a tour like this even if you have no kayaking experience.
It's suitable for non-swimmers too and takes in views of the 12th-century Ringgenberg Castle and the beautiful Iseltwald Castle along with the breathtaking natural scenery.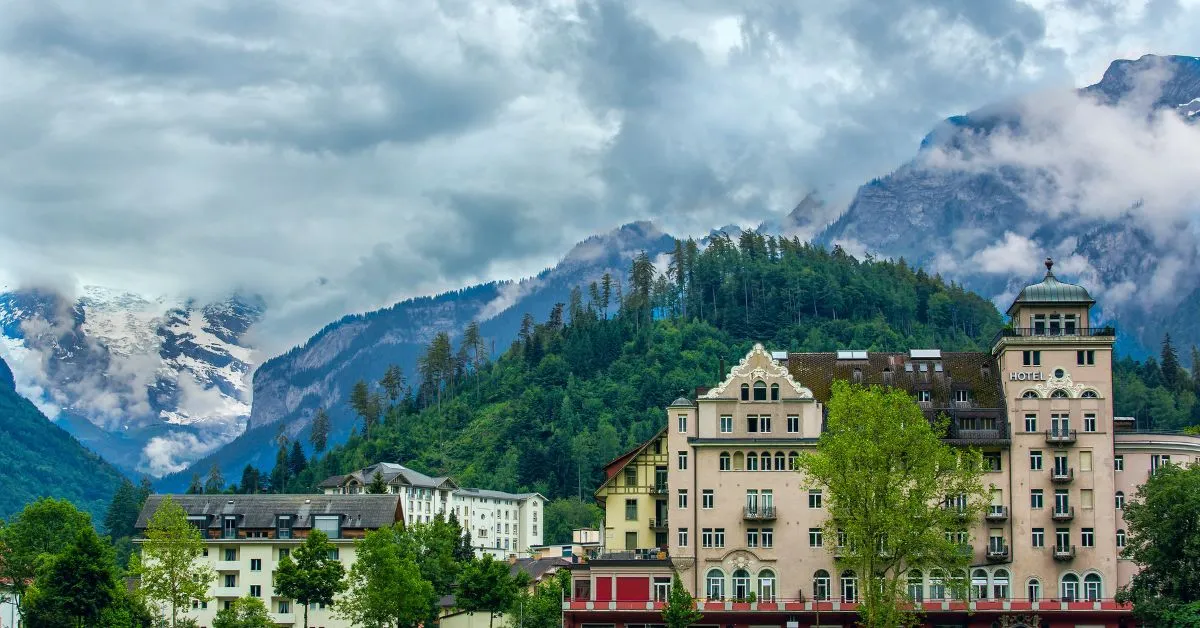 ---
---
Alternatively, consider a lake cruise – a more relaxed option that allows you to just sit back and soak up the views. Cruises by steamboat are usually available from April to October – a service that has been functioning since the 1830s.
Some cruises offer the option to stop and explore the village of Brienz, which sits on the lake's north shore.
It has a peaceful ambiance and is very picturesque, with a lovely lakeside promenade and half-timbered traditional houses.
With a long tradition of woodcarving, it also has its own woodcarving museum. Here you can see a collection of artwork from the region dating back to various eras.
Your cruise may also include a visit to the Giessbach Falls and the charming Giessbach village nearby.
Evening
As the first of your two days in Interlaken draws to a close, head to the OX Restaurant & Grill for dinner. It specializes in high-quality meat dishes but also serves a great selection of fish and seafood, with a focus on fresh, local ingredients.
Lined with wood, it has contemporary furnishings and a warm and welcoming feel. In the warmer months, you can sit at the tables outside. Just be sure to book ahead as this is a popular venue and gets booked up quickly.
Day 2
On the second of your two days in Interlaken, you'll be visiting the lovely villages around the town, along with the highest train station in Europe.
Morning
Begin your day in the tranquil setting of Lauterbrunnen, a beautiful village just 20 minutes from town by car or train.
Nicknamed 'The Land of 72 Waterfalls' it is every bit as scenic as it sounds, with its most famous feature being Staubbach Falls.
At 297 m these are the third tallest falls in the region and easy to see, located just a short walk from the train station or car park.
From here, head to Schilthorn mountain, which you can reach via cable car and a small mountain train. At 2970 meters, it is one of the tallest peaks in the area, so the 360-degree views from the top are simply incredible.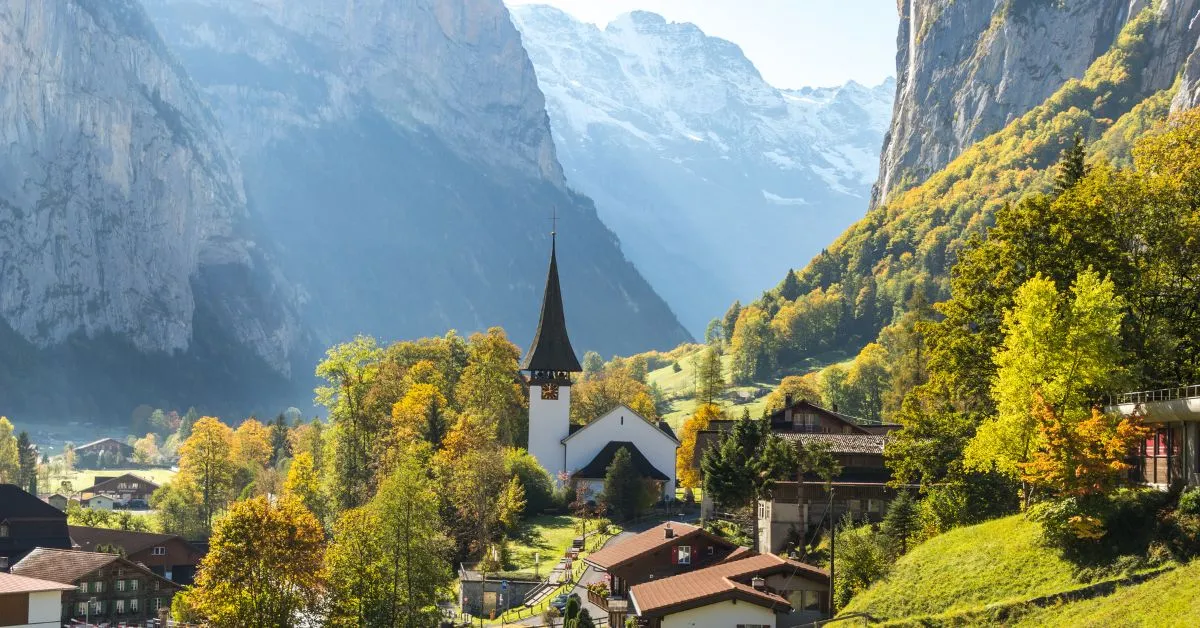 In addition to the main viewing platform, you'll find the Piz Gloria, a slowly revolving restaurant in which you can have lunch and continue to enjoy the scenery. If it seems familiar, it's because this restaurant actually appeared in a Bond film.
If you're a fan of 007 you might want to pay a quick visit to the James Bond museum – Bond World – located downstairs.
Afternoon
After lunch head to Grindelwald, located just over an hour away. One of the most popular villages in the area, it offers a range of sports in the winter months and some excellent hiking trails in the summer.
One of the most interesting things to do is to complete the Grindelwald Canyon Walk, which is open daily from late May until late October.
The Glacier Gorge is located within walking distance of the center of Grindelwald and sits between the Mettenberg and Eiger. The glacier has undergone many changes over the years and the canyon walk gives you the opportunity to see just how it has retreated.
You'll go through one kilometer of natural tunnels and rock galleries, which helps you understand how the gorge was originally formed.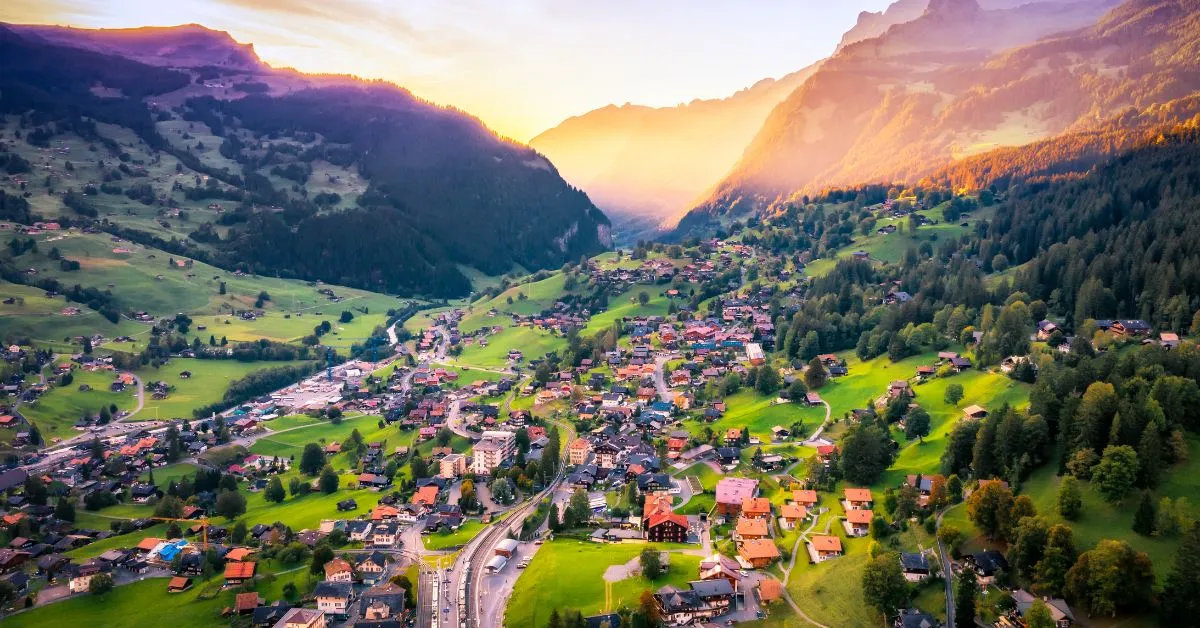 If you're looking for a more adventurous way to pass the time, you might want to check out the Grindelwald Canyon Swing instead!
This involves a 50-meter free fall from a ledge above the glacial river between the rocky canyon walls – and it's definitely not for the faint-hearted!
The final destination of your weekend in Interlaken is Jungfraujoch, Europe's highest-altitude railway station. It is located 3,454 meters above sea level and is always covered in ice and snow, no matter what time of year you visit.
It takes 45 minutes to get there from Grindelwald and the journey up is part of the fun! At the top, you can enjoy panoramic views and visit the magnificent Ice Palace, filled with enchanting sculptures.
Evening
It would be unthinkable to spend 2 days in Interlaken without enjoying the dish for which Switzerland is famous – Cheese Fondue.
Some of the best is served at Bebbis Restaurant in Grindelwald, which has a cozy interior filled with Swiss paintings and traditional Swiss instruments.
Whilst enjoying your Fondue dinner, you'll also be treated to some traditional local entertainment.
Are 2 Days In Interlaken Enough?
2 days is the perfect amount of time for a visit to Interlaken. You'll be able to see the main town and some of the surrounding areas too.
Just remember that this itinerary needs two FULL days to complete. If you arrive late on your first day or have an early departure time, then we'd recommend adding an extra night to your stay.
If you aren't sure how many days in Interlaken is enough, we suggest you look at all the things to do in Interlaken to decide how to plan your time there.
Where To Stay In Interlaken
Here are some of our favorite places to stay in Interlaken, with a suggestion to suit every budget!
Best Budget Accommodation
Backpackers Villa Sonnenhof-Hostel Interlaken has a convenient central location. Each stylish room is simply decorated, with free wifi available throughout. There are lots of great facilities, too, with a kitchen, indoor and outdoor pools, and a free mini golf course all included.
Best Mid-Range Accommodation
The Carlton-Europe Vintage Hotel is an adults-only boutique hotel located on the Höheweg promenade close to the Interlaken Ost Station.
With a history dating back more than 100 years, this beautiful building features individually furnished rooms and suites, an outdoor swimming pool, and a garden with outdoor chess and French boules.
It also has its own restaurant serving traditional Swiss dishes from the Bernese Oberland, with fondue and raclette both on the menu.
Best Luxury Accommodation
If only the best will do, then book a room at the Victoria Jungfrau Grand Hotel and Spa. It has an extensive spa for relaxation, with a pool, a sauna, and a steam room. Fitness facilities and coaching are also available.
Rooms are individually furnished in a range of styles, from classic to contemporary. Each comes equipped with a spacious marble bathroom.
You have a choice of two restaurants – La Terrasse Brasserie, offering authentic brasserie cuisine in a modern atmosphere – and Ristorante e Pizzeria Sapori, serving a variety of Italian specialties and wines.
Final Thoughts On Two Days In Interlaken
It's easy to see why Interlaken is one of the most popular destinations in Switzerland. There is so much to do and so much incredible scenery to admire that a visit to this town is something you'll always remember. Interlaken is definitely worth visiting.
We hope this itinerary has helped you plan your trip and that you enjoy your stay.
Visiting Switzerland soon? Read one of the following guides:
[ad_2]
Source link