Travel
Elope In Yosemite: 7 Amazing Locations  | 2022
[ad_1]
Yosemite is a famed national park widely known for its grand sequoia trees, jaw-dropping mountain views, and plunging waterfalls. With all the fantastic sites this park offers, it's no wonder many couples decide to elope in Yosemite.  
If you've been dreaming up a Yosemite elopement, you have come to the right place. While eloping is often the more straightforward route, there are still plenty of rules and regulations you will need to follow. 
PSSST. Your travel medical insurance can now cover COVID-19!
If you grab SafetyWing Nomad Insurance, it'll be covered just like other illnesses. I've been using it since 2019 and I can assure you it's the perfect solution for nomads like you and me.
No need to worry; we have you covered. This article will walk you through everything you need to know to elope in Yosemite.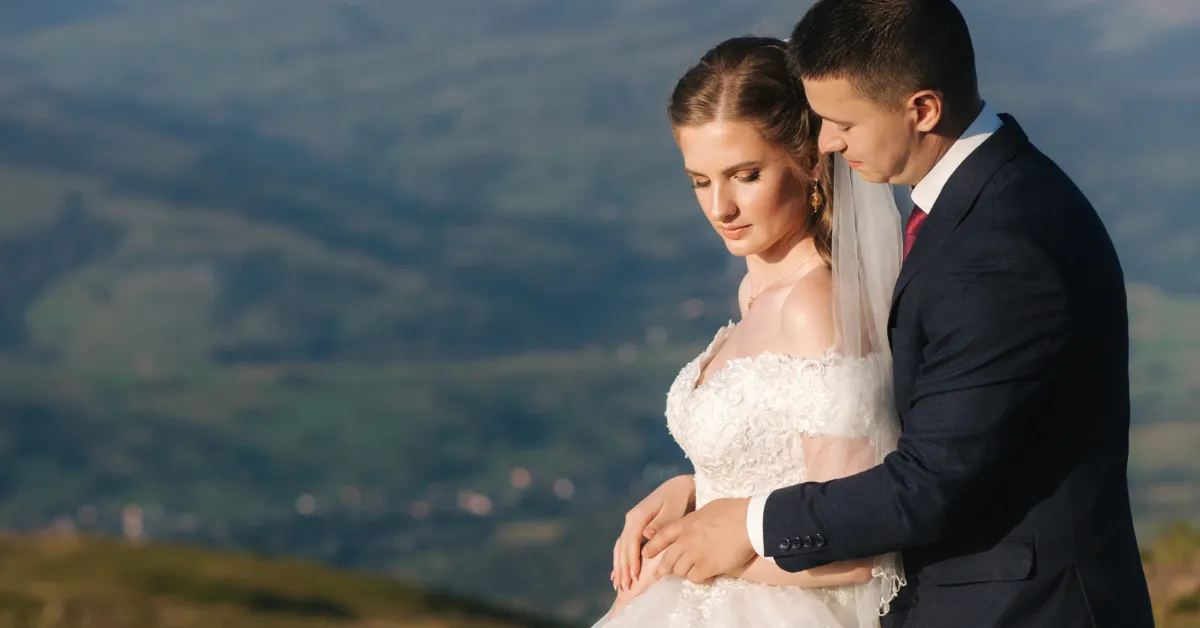 Best Places To Elope In Yosemite 
Yosemite park is filled with various eye-catching locations to host your ceremony. From jaw-dropping cliffs to flowing waterfalls, Yosemite has a little bit of everything for us nature lovers. 
While you'll have your pick from some amazing destinations within the park, you won't be able to have your ceremony wherever you choose. There is a set list of locations that are accessible for wedding ceremonies.
Some of our favorites include: 
Taft Point 

Cascades Picnic Area

Bridalveil Falls 

Lower Yosemite Fall Paved Trail

Swinging Bridge Picnic Area

Tuolumne Grove

Glacier Point Amphitheater
You can find the complete list of Yosemite ceremony locations here. 
Read on for a further breakdown of our favorite locations, as well as the logistics required to elope in Yosemite.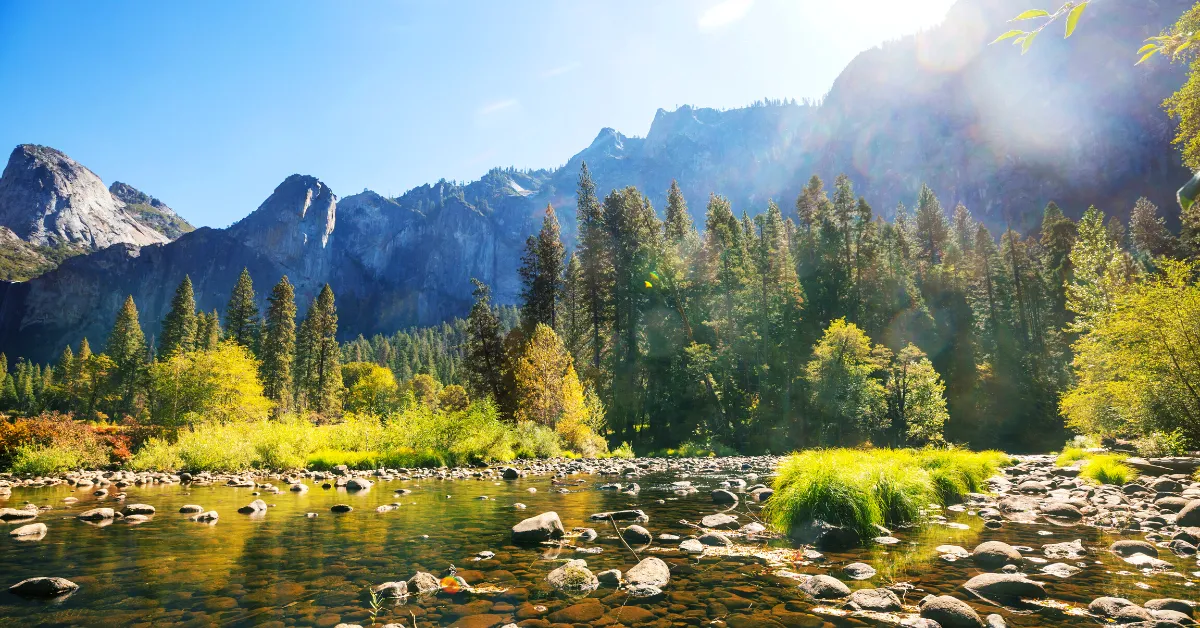 1. Taft Point 
Maximum Capacity: 11 people 

Handicap Accessible: No
Climb to the peak of Taft Point for some truly amazing views overlooking the valley of Yosemite Park, El Capitan, and Yosemite Falls. This is an iconic view and one of the most popular destinations in the park, so expect a lot of other foot traffic. 
The normal hike is 2.2 miles (3.5 kilometers) and takes about an hour to complete. Unfortunately, this trail will be closed for the entirety of 2022.
The alternative option is an 8-mile (12.9 kilometers) trek one way and 16 miles (25.7 kilometers) in total. 
This trail is not for the weak-hearted; if you are not an experienced hiker, we recommend avoiding this ceremony destination until the shorter trail opens. 
The best time to visit this trail is March through October. 
2. Cascades Picnic Area
Maximum Capacity: 30 people 

Handicap Accessible: No
As you cannot get married at the viewpoint of Cascade Falls, the picnic area is your next best bet. You'll have a view of the river, open fields, and a short walk to the falls area for some breathtaking pictures. 
This destination is located near the restrooms and picnic tables making this a great choice if you plan to have guests. 
3. Bridalveil Falls 
Maximum Capacity: 50 people

Handicap Accessible: Yes 
Bridalveil is a preeminent waterfall in Yosemite Park. Watch mesmerized as the water glides over the mountain and plunges 620 feet (189 meters). 
The falls are about a twenty-minute walk from the parking lot via a paved path. Whether you decide to have your ceremony here or not, take the short walk down to the falls for some unforgettable pictures. 
While the waterfall can flow year-round, it is at its peak during the springtime. 
4. Lower Yosemite Fall 
Maximum Capacity: 50 people

Handicap Accessible: Yes
Set your sights on one of North America's tallest waterfalls. This trail leads to the waterfall's base, but you will have a grand view of the cascading water as you approach the falls. 
While the trail is open year long, the water flows at its peak during spring and early summer. 
You can easily access this stunning location by a paved trail. The entire loop is about a mile long and completely worth it. 
5. Swinging Bridge 
Maximum Capacity: 20 people

Handicap Accessible: Yes 
Peer out onto the Merced River while you gaze upon the reflection of Yosemite Falls in the water. This area is filled with lush greenery and some genuinely fantastic mountain views. 
Keep in mind the ceremony itself cannot take place on the bridge. You will be able to gather on the bridge after for some stunning views and pictures. 
Contrary to its name, the bridge does not swing. So you won't need to worry about anyone swaying the bridge during your epic photo shoot. 
6. Glacier Point Amphitheater
Maximum Capacity: 50 people

Handicap Accessible: No, due to the current road closure 
Become completely captivated by the grand view of Yosemite Valley at Glacier Point. You'll also have a direct view of the monumental half dome.
The well-admired rock formation stands over 6,000 feet (1,829 meters) above sea level and is composed of granite. The amphitheater has built-in seating and is a great place if you intend to have a slightly larger elopement ceremony.
Unfortunately, this view is only accessible through hiking as Glacier Point Road is closed for construction for the entirety of 2022. This hike is quite strenuous and only recommended for intermediate to experienced hikers.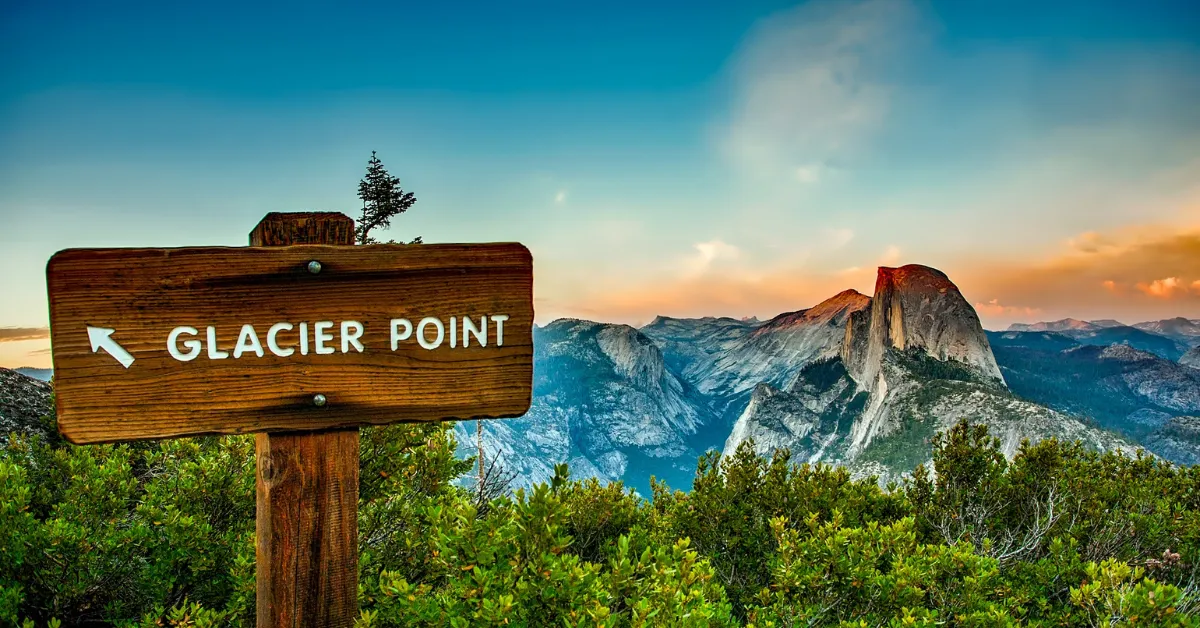 7. Tuolumne Grove
Maximum Capacity: 30 people

Handicap Accessible: No
Gather in awe as you surround yourself around grand mature sequoias. This grove will completely take your breath away as you gaze in amazement at the enormous size of these incredible trees. 
Make this ceremony truly magical by walking through the grand sequoia tree tunnel. This is a unique and captivating archway that has been carved in the base of an old sequoia tree. 
While it's well worth it, the grove is a bit of a trek. This moderate hike takes about an hour and thirty minutes round trip.
How To Elope In Yosemite 
As Yosemite Park is located within California, you will have to follow the Californian marriage laws to tie the knot here. 
California is an accessible place for most couples to elope as they allow same-sex marriage and you don't need to be a state or US resident to marry here. 
Here is what you will need to elope in California 
Legal identification (driver's license or passport)

Social Security Number (for US citizens)

Certified copies of your birth certificate (for foreigners)

Passport with certified English translation (for foreigners)

Proper evidence of the termination of your previous marriage, if applicable

One Witness 

A licensed officiant 

A marriage license 
Getting A Marriage License In California 
You can receive a marriage license from the county clerk's office. Both you and your partner must appear in person and are required to make an appointment for your meeting. 
To save time, go to the county clerk's website and complete the application process online. 
The license fee varies depending on the county but ranges between $80-$120. 
Picking An Officiant 
Choosing an officiant is relatively easy as anyone legally ordained in California can officiate your wedding. 
This means you don't need to stick to a minister or county clerk officiating your wedding ceremony. Have a close friend or a family member become quickly ordained online to make this elopement even more intimate and unique. 
Special Use Permit 
To elope in Yosemite park, you must obtain a special use permit. You can apply for the permit up to a year in advance, and you will be required to send the completed application by mail. 
The permit will cost $150; if monitoring is required, you will be responsible for paying an additional $50 per hour. The permit is limited to a two-hour maximum, so you and your guests will not be able to remain in the ceremony location past this time frame. 
Wedding permits are not granted for any holiday or holiday weekend, so make sure to keep this in mind when setting your date. 
You can find additional information here. 
Elopement Packages In Yosemite 
If you would like to leave the nitty-gritty details to someone else, plenty of wedding planners can help you plan a picture-perfect elopement from start to finish. 
An inclusive package would include offerings such as: 
Dedicated wedding planner 

Wedding Officiant 

Specialized ceremony 

Assistance in permit and licensing 

Photographer 

Videographer 

Accommodation assistance 
This typically starts around $5,000 and can increase depending on the inclusions. 
Rules To Keep In Mind 
Yosemite is a national park, so you will be subject to specific rules and guidelines if you decide to elope here. 
Make sure to keep the following information in mind: 
You are unable to obtain a wedding permit over a holiday or a holiday weekend  

No pets will be allowed to be present at the ceremony 

The flower baby's breath is banned from the park, so make sure you communicate this with your florist 

Any furniture such as chairs or tables are not allowed at the site of the ceremony 

No signage or decorations are permitted 

You are unable to throw any objects at the ceremony, such as rice or flower petals 

You are unable to release living things such as birds or butterflies 
Final Thoughts On Eloping In Yosemite 
Yosemite is filled with breathtaking locations that will make for a picture-perfect wedding ceremony. You'll have plenty of jaw-dropping backdrops from mountain peaks to open meadows. 
Just make sure you are aware of the rules and regulations of the park and that you have received the proper licensing and permits to ensure this special day goes as smoothly as possible.
Not sure if eloping in Yosemite is a great idea? Explore other destinations:
[ad_2]
Source link